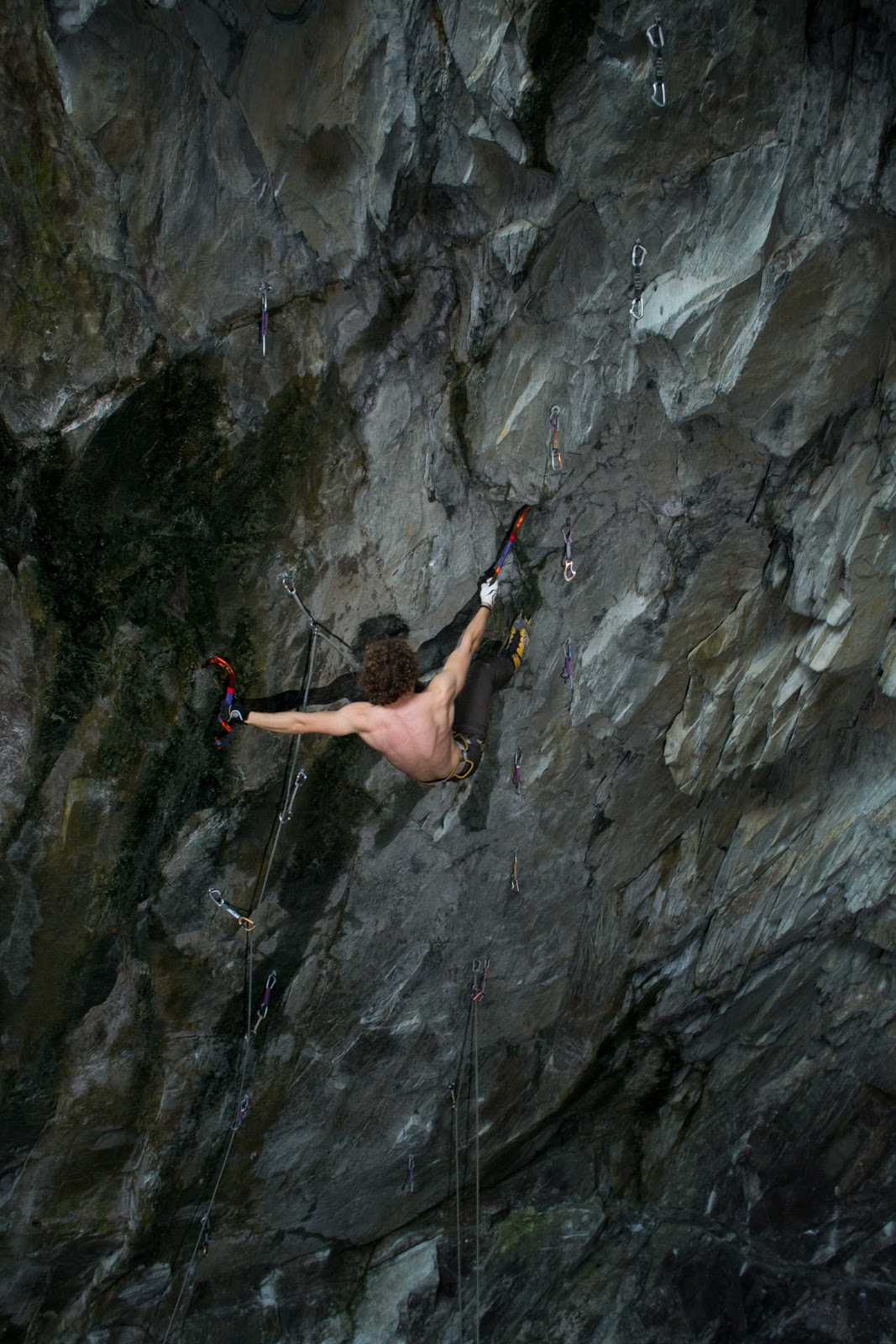 Sticking the huge crux move on DTS Spirit
Photo credit: James Dunn
Over the past three days, I have been back climbing in the cave at Newtyle. On Sunday I was on a project scoping mission (see last post) and also trying the new line there "DTS Spirit" D12. I was feeling good on the route on Sunday but didn't manage to get it sent. I also thought that on Monday I would be too tired from the previous day to get the route, this turned out not to be the case.
Yesterday I headed to Newtyle with James and Mike. I was feeling fairly relaxed but also full of psyche. I wasn't too fussed if I got "DTS Spirit" or not, I was just planning on going with the flow and not to bothered one way or the other. I warmed up a bit and then belayed Mike and James on their project routes, then after having a crank on some new stuff I decided to chill while the tunes where blurring and grabbed a bite to eat.
Whilst sat listening to the music, I looked up at the line of "DTS Spirit" and thought I'd give it a shot, even though I felt a little drained from the day before. I turned up the beats and tied into the rope for the send. The music really helped take my mind of the route and when I left the ground, I wasn't thinking about the route at all, I was just psyched for the tunes. To my surprise, I was feeling strong on the huge moves and before I knew it I was at my previous high point (but with both axes this time) and feeling good. I moved up to below the last hard move and had a quick shake out, and then it was all or nothing on the last massive stein-pull move to reach the final clip. I was amazed that I stuck this move but after a quick psyche shout to rid my mind of any thoughts of failure, I did the last move and clipped the chain.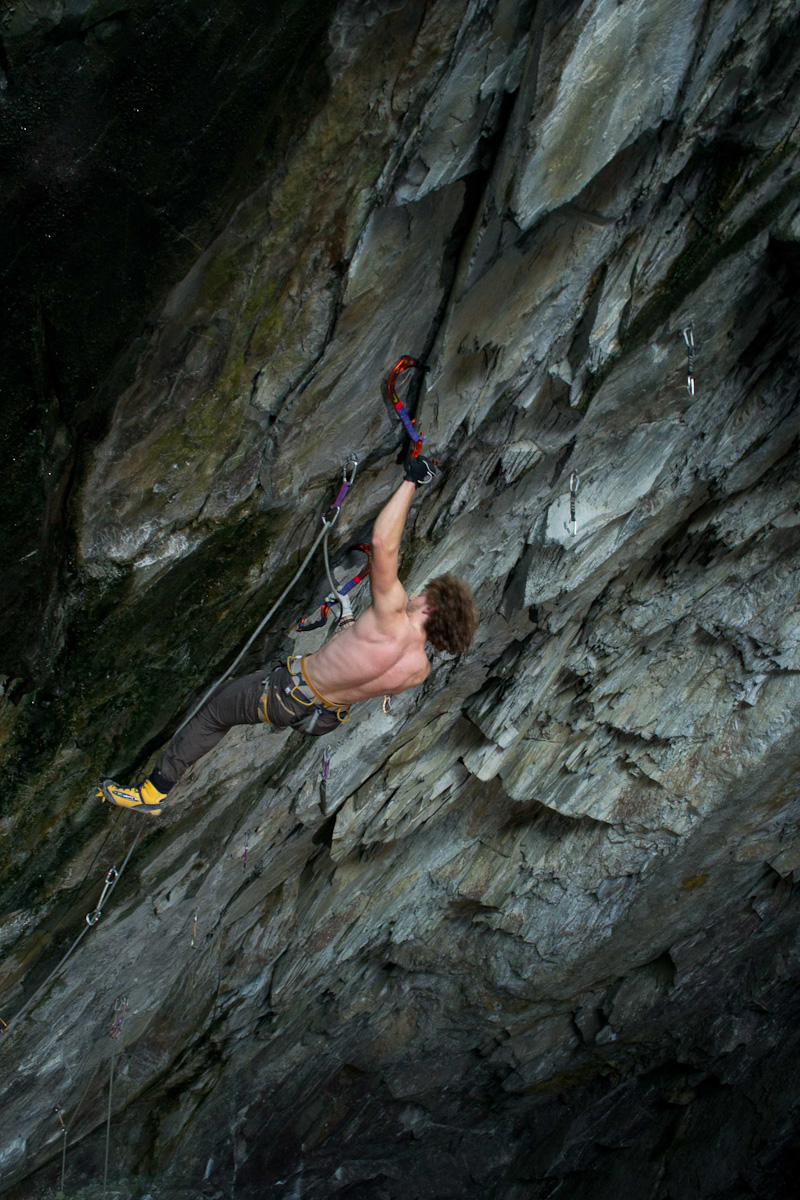 Reaching the last Stein-pull
Photo Credit: James Dunn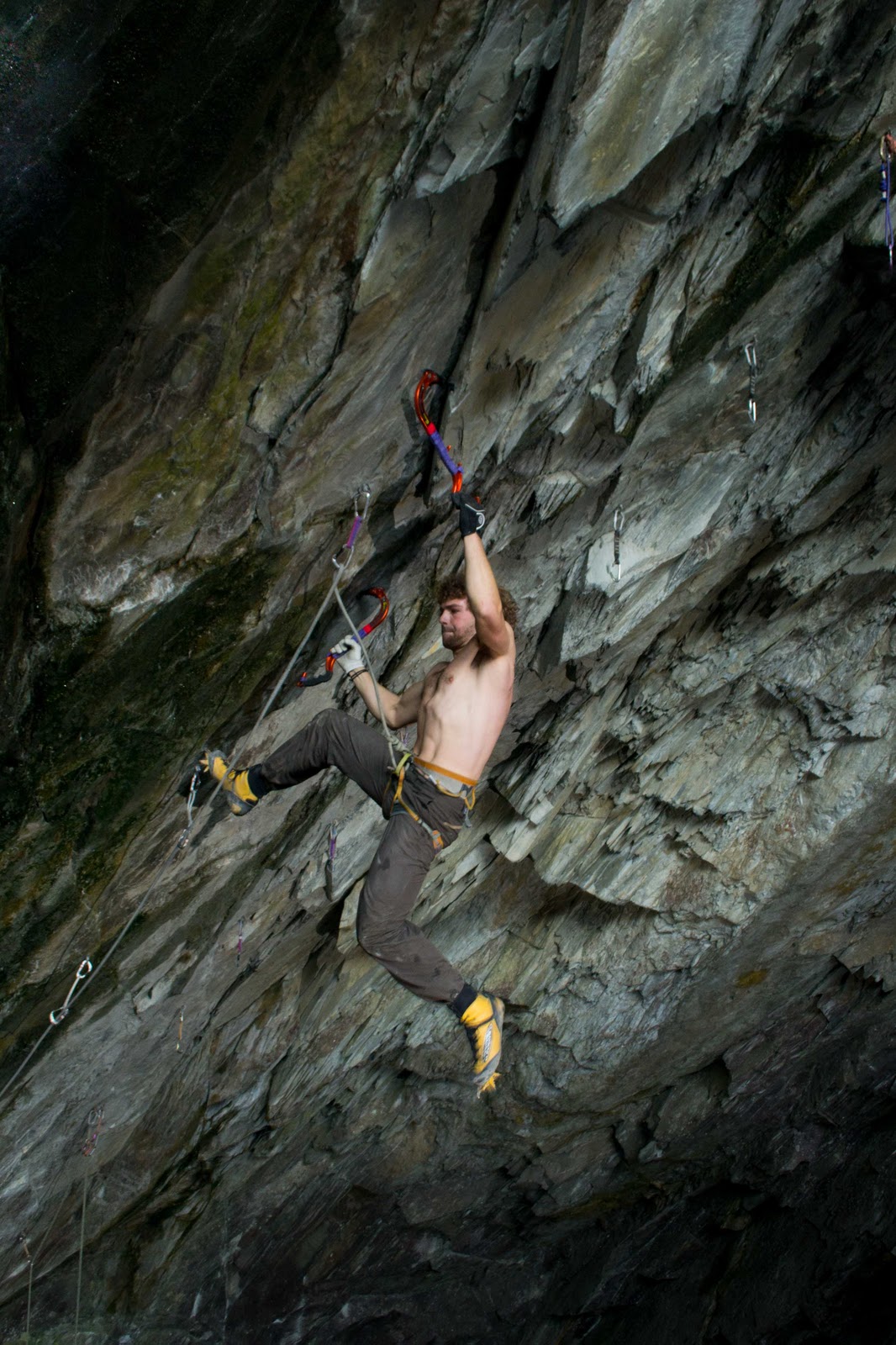 Getting psyched for the last big move
Photo Credit: James Dunn
Shocked but also stoked that I'd got my route I just chilled for the rest of the day, but not before I had had another play on my new project. Mike and James also worked their routes and hopefully it won't be long before they get them sent.
Today Mike and I headed back to Newtyle , but after spending the last two days in the cave, I was feeling pretty spent and fairly un-psyched to fight my way up my intended route. But with good friendly support from Mike (him telling me to man up!) I jumped on my route and got stuck into the sustained and super long nature of the line.
Nothing got sent today, although Mike got super close to his project. But the moves where worked and as soon as I'm rested and If the mountain conditions aren't good then I'll be back down to Newtyle soon to get stuck into some more tooling rave cave action!