Over the past three days I have been making the most of the post thaw conditions in the mountains.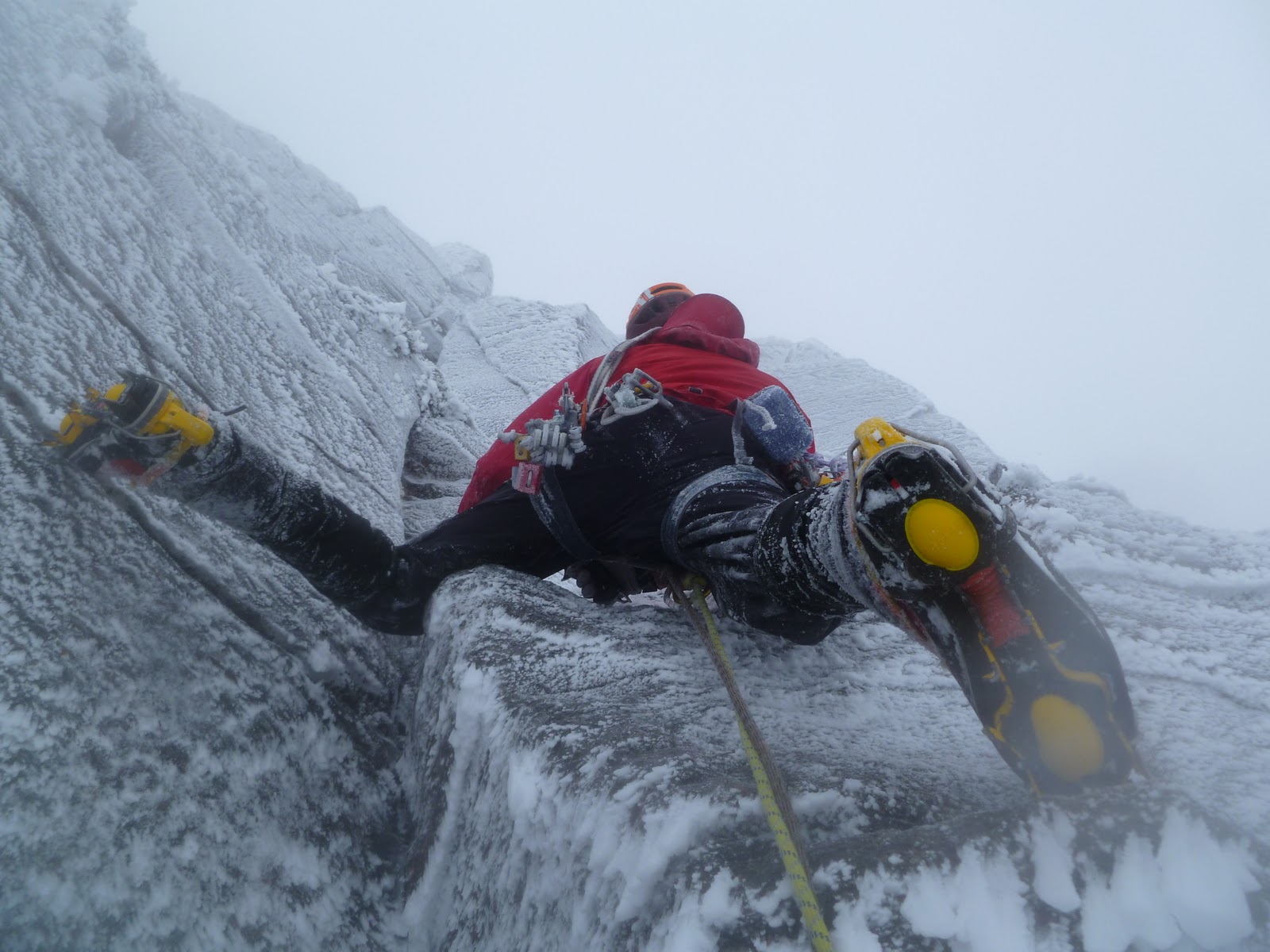 Charly Fritzer on "Ventricle"
On Wednesday I met up with Ines Papert and her friends who are over from Germany and Austria for ten days of Scottish winter mixed madness. We headed up to Coire an Lochain on Wednesday morning, with Pete Macpherson and I being the so called locals, it was thought that we could show the tourists where the good lines are.
Ines and Pete did "Daddy Long legs" on No.1 buttress, while Austrian Charly Fritzer and I did "Ventricle". This was Charly's first ever Scottish winter route, and it seemed to be well within his abilities. It was fun to climb with new people and to see how these European Alpinists found our Scottish winter routes.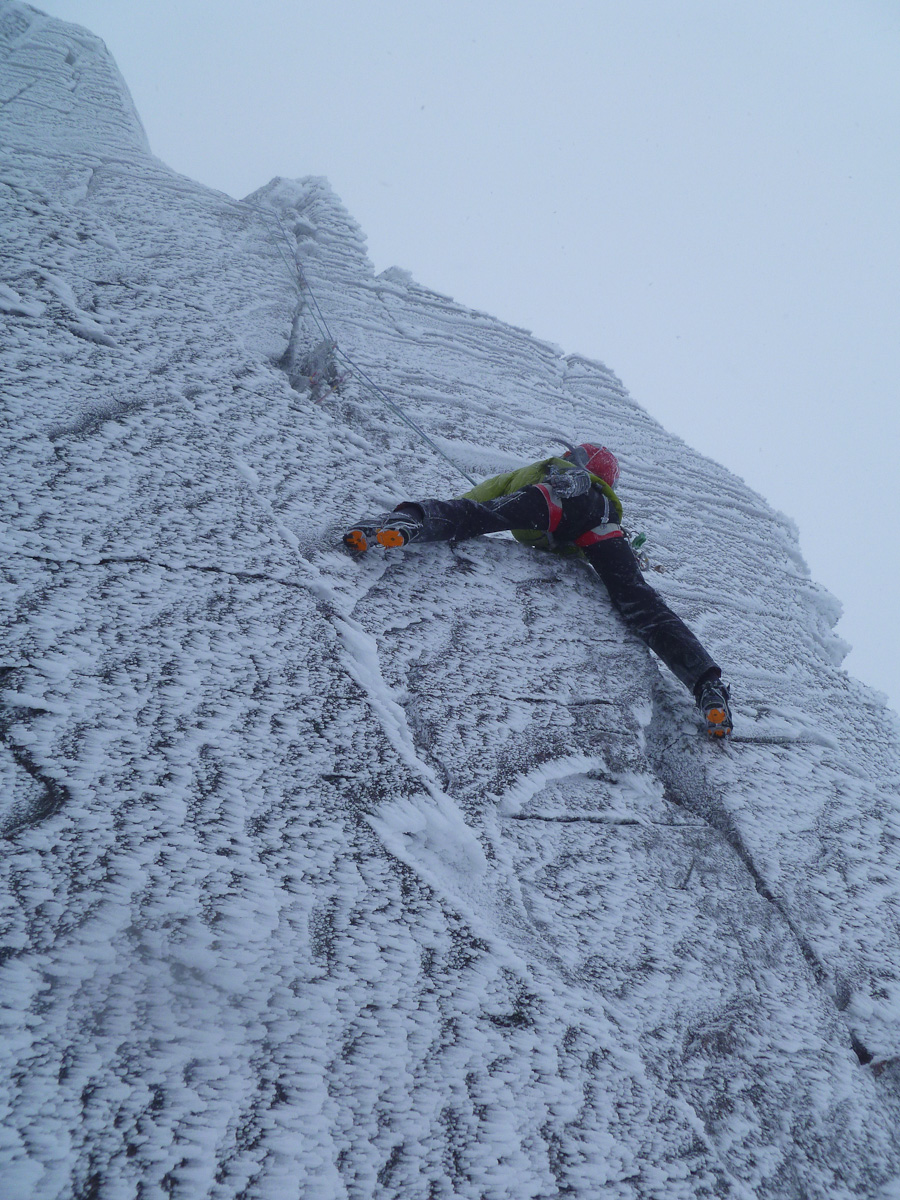 Ines Papert on "Daddy Longlegs"
On Wednesday night Ines and Co and I headed west to Fort William, ready for an early start on the Ben on Thursday. We met up with Mike Tweedley that night and we all slept in the Nevis range car park, Mike and I in my car, and the German crew in one of Simon Yearsley's Big Tree Campervans.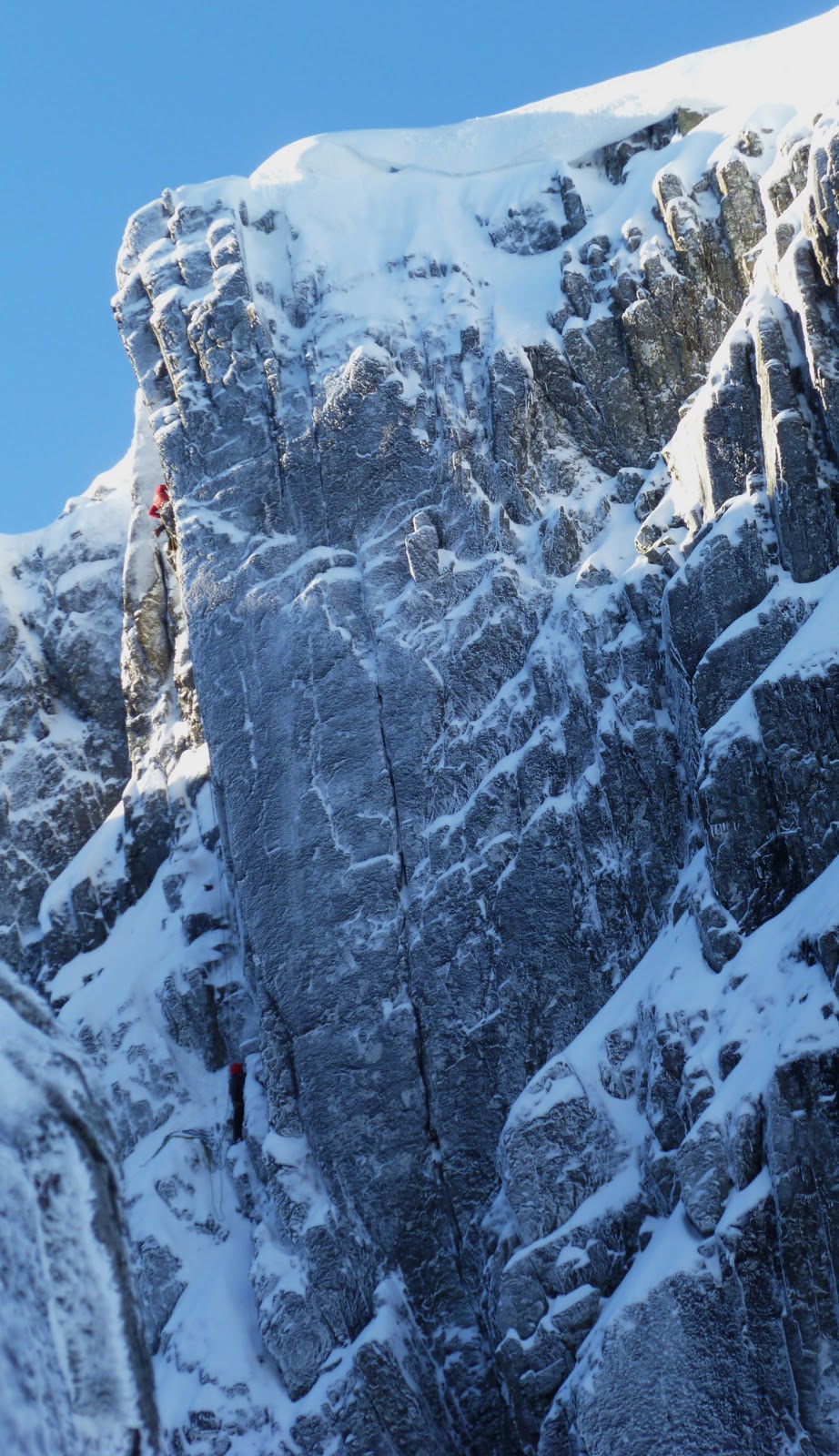 Charly in the sun on
"To Those Who Wait"
On Thursday we all headed up to No.3 Gully Buttress area for some second ascentage action! Ines and Charly went for my route "To Those Who Wait". This was very inspiring as Charlie managed to get it second go (ground up) and it was only his second ever Scottish winter route. Ines had a go first but slipped off at the crux so passed the sharp end over to the Austrian beast!
Mike and I did Steve Ashworth's new route "Apache". This was possibly the second ascent of this route. The route was originally given VIII/9, but this was in blizzard conditions and in my opinion, things always seem harder when the weather is bad. Mike and I both agreed that the route was steady VIII/8, but still an awesome line and it was a good effort for Steve and Paddy on the first ascent.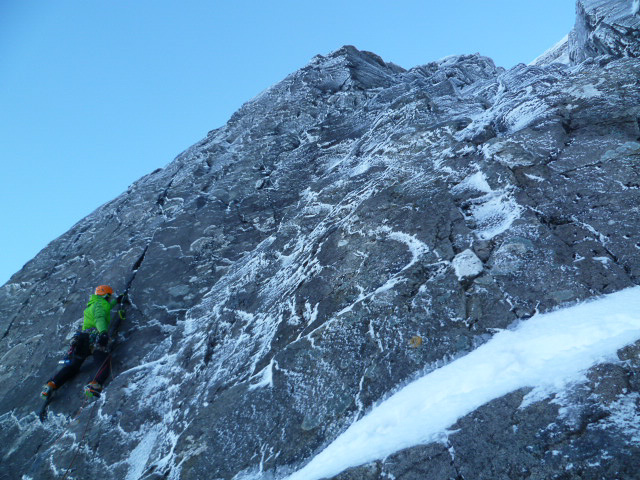 Me leading the crux pitch of "Apache"
We split the pitches a little differently from the first ascentionists. I took a belay on the good ledge up and right from the belay of Sioux Wall. This was after all the difficult climbing and meant that the second pitch was a bit more interesting for Mike, rather than one hard move then easy ground. I think this is the best way to split this route.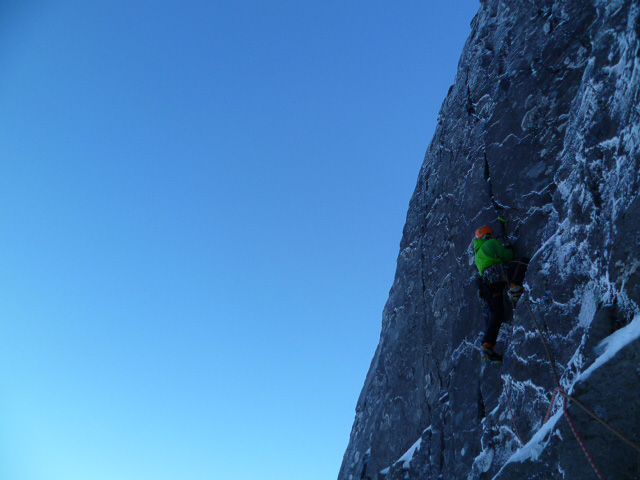 "Apache" crux pitch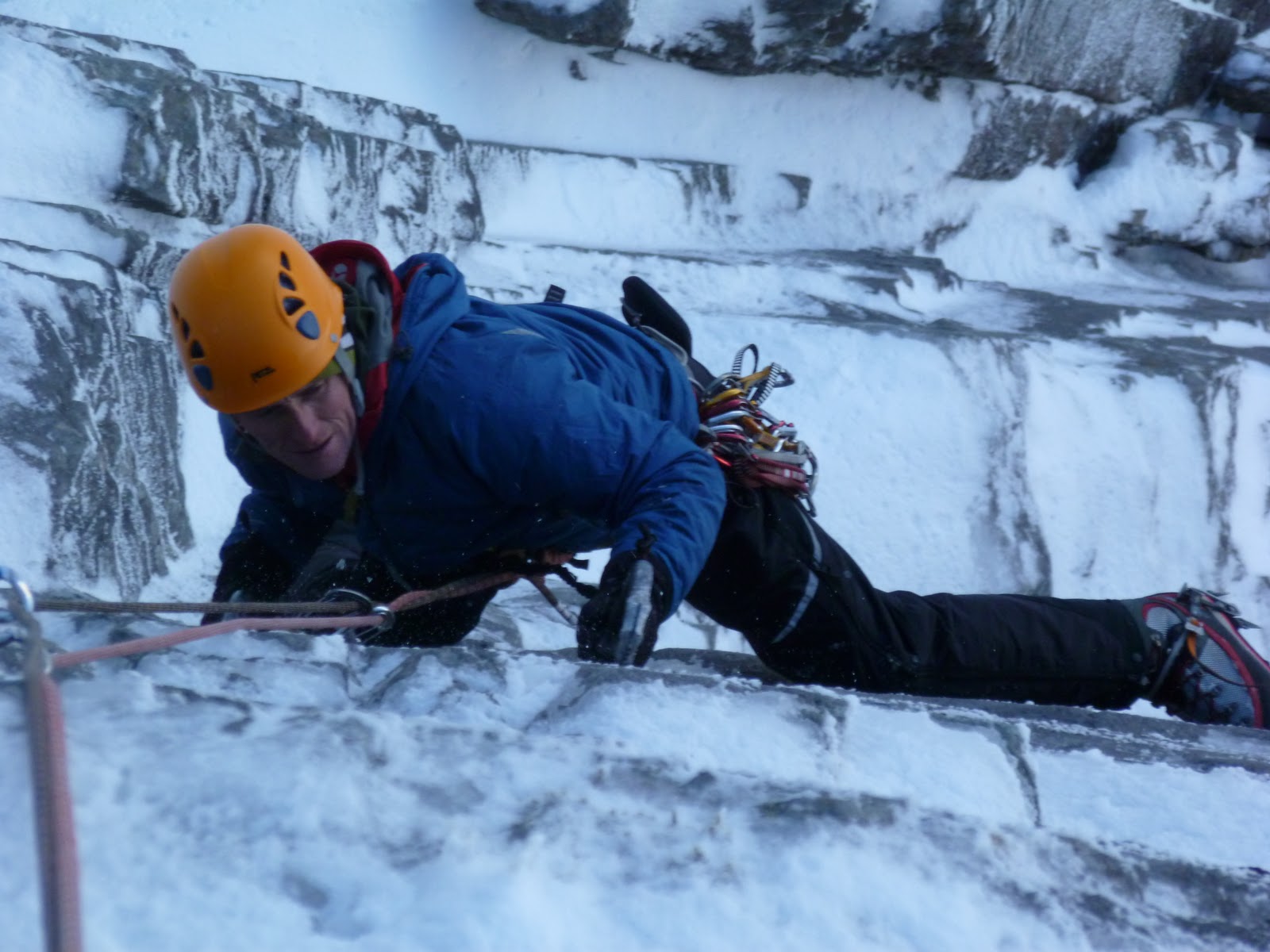 Mike seconding the crux pitch of "Apache"
On Thursday night Mike and I stayed at Dave and Clair Mcleods, while Ines and Co headed off to find a hostel so that Hans (their photographer) could dry all his camera equipment.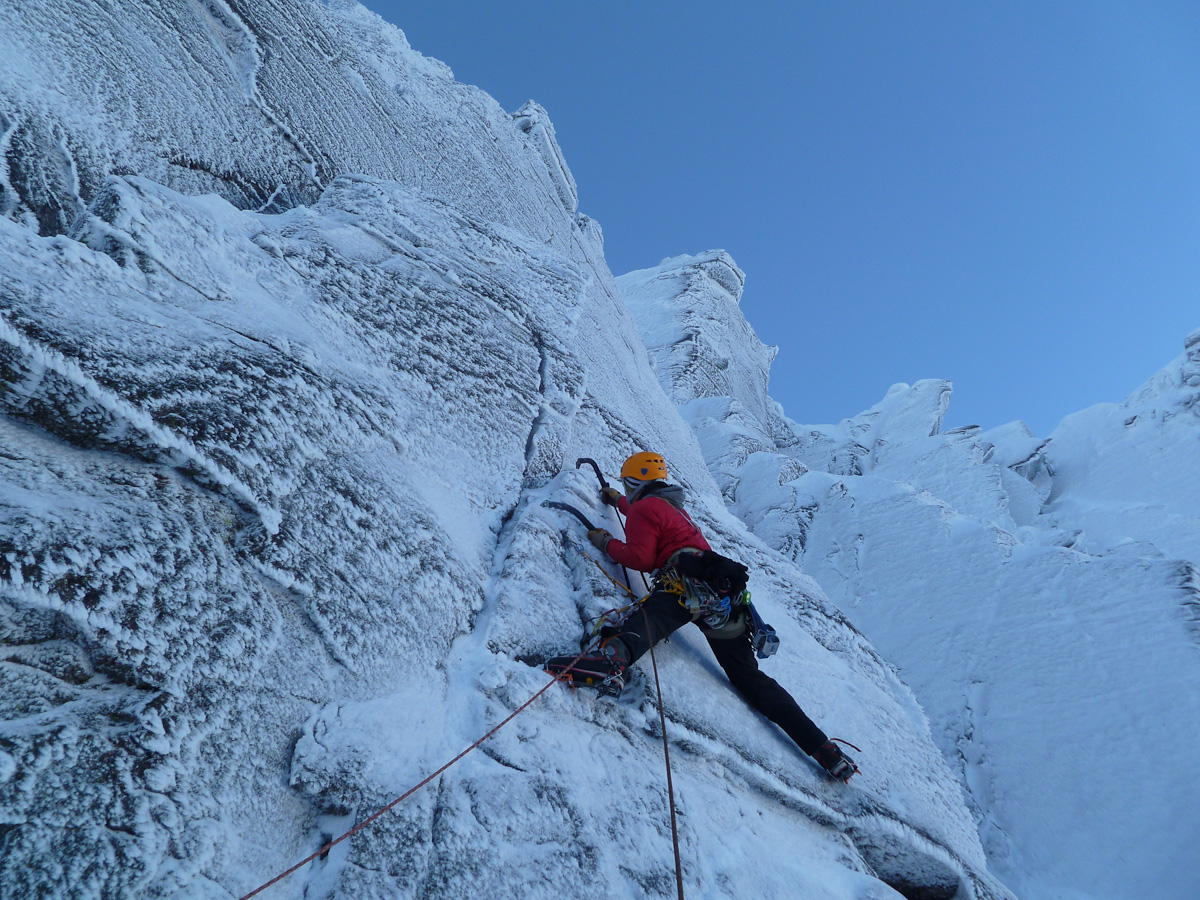 Mike on the first pitch of "Omerta"
Mike and I headed back to the Gorms yesterday to repeat Pete Macpherson and Martin Moran's route "Omerta". This turned out to be an awesome line and It certainly kept up with the Northern Corries reputation for short hard routes. Mike led pitches one and three and I led the crux second pitch. The route was super sustained and the crux and last pitch where hard to protect due to dirt and Ice in the cracks. I managed to climb the route clean with no falls or rests, but this was more to the fact that I didn't trust any of the protection on the crux pitch. So falling was not an option, even though I was very pumped and tired by 3/4's of the way up the pitch.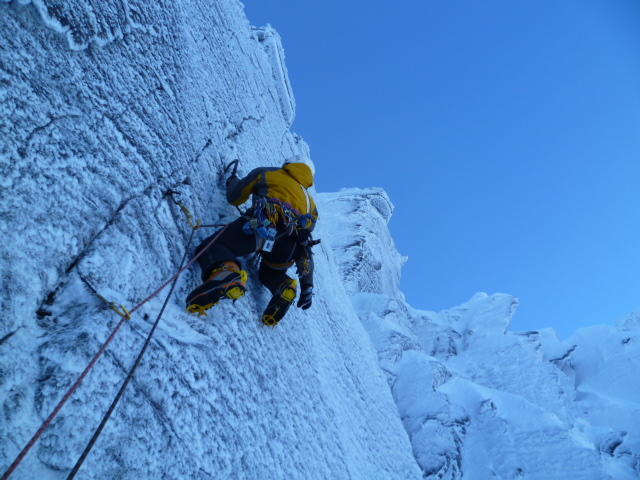 Me starting up the Crux pitch of "Omerta"
Posted in
Uncategorized
|
Leave a reply
I am pleased to announce that I have recently agreed new sponsorship with The Mountain Boot Company. This exciting development now means I am now associated with Grivel, Deuter, Outdoor Research, Scarpa, Lorpen and Ski Trab. As a result of my sponsorship with MBC I now have the support of an established outdoor company at the forefront of technical innovation in climbing.
I am pleased to also remain supported by Edelrid. This new sponsorship will allow me to concentrate full time on my climbing.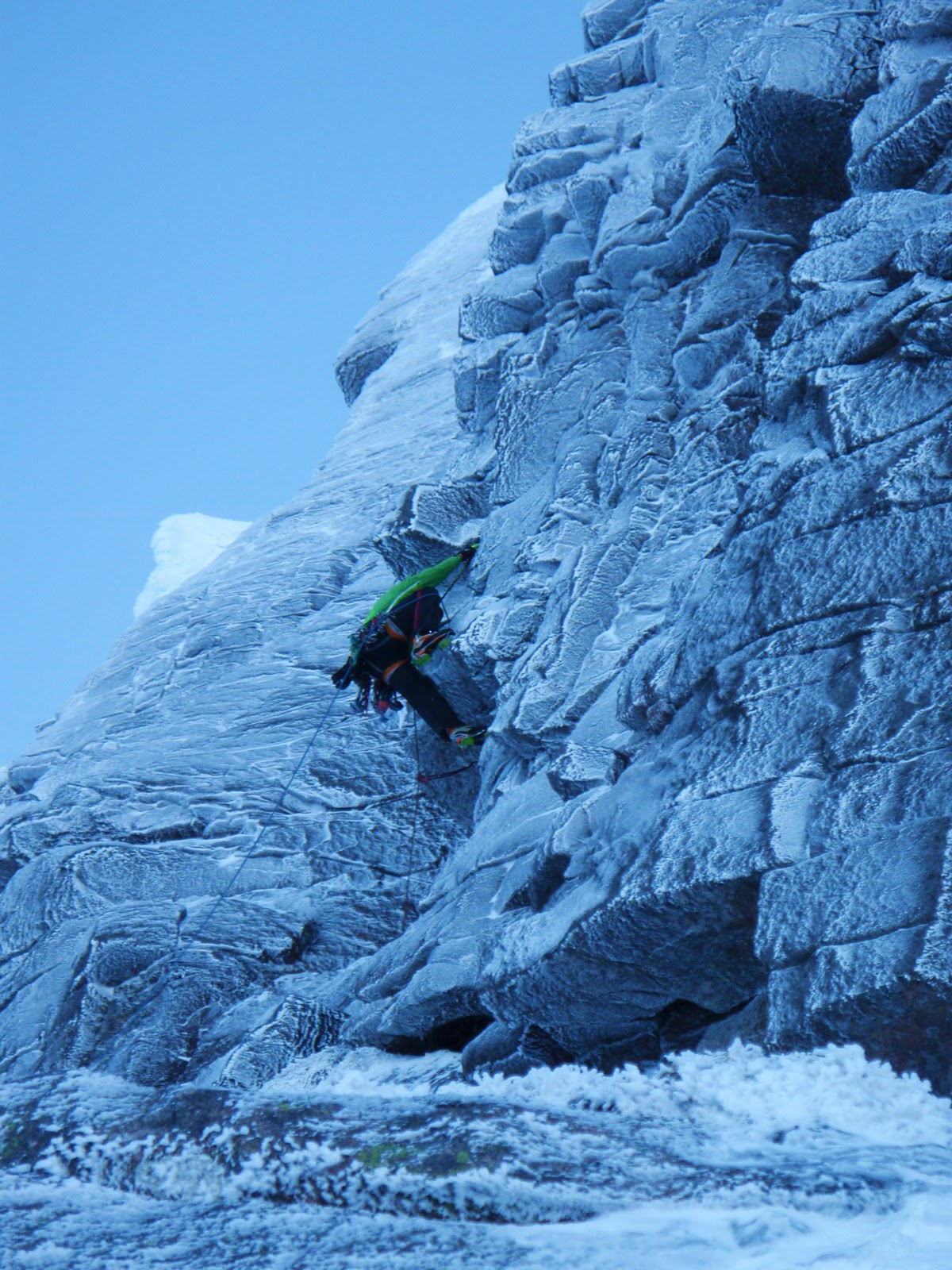 Pulling through the steep bulge on Prore Direct
Photo Credited to Graeme Melville
After an awesome day on "Happy Tyroleans", Mike headed home and I met up with Guy Robertson that evening for another days climbing tomorrow. We slept in our cars in the Cairngorm car park and were up bright and early the next morning ready and eager for another days cranking in the mountains.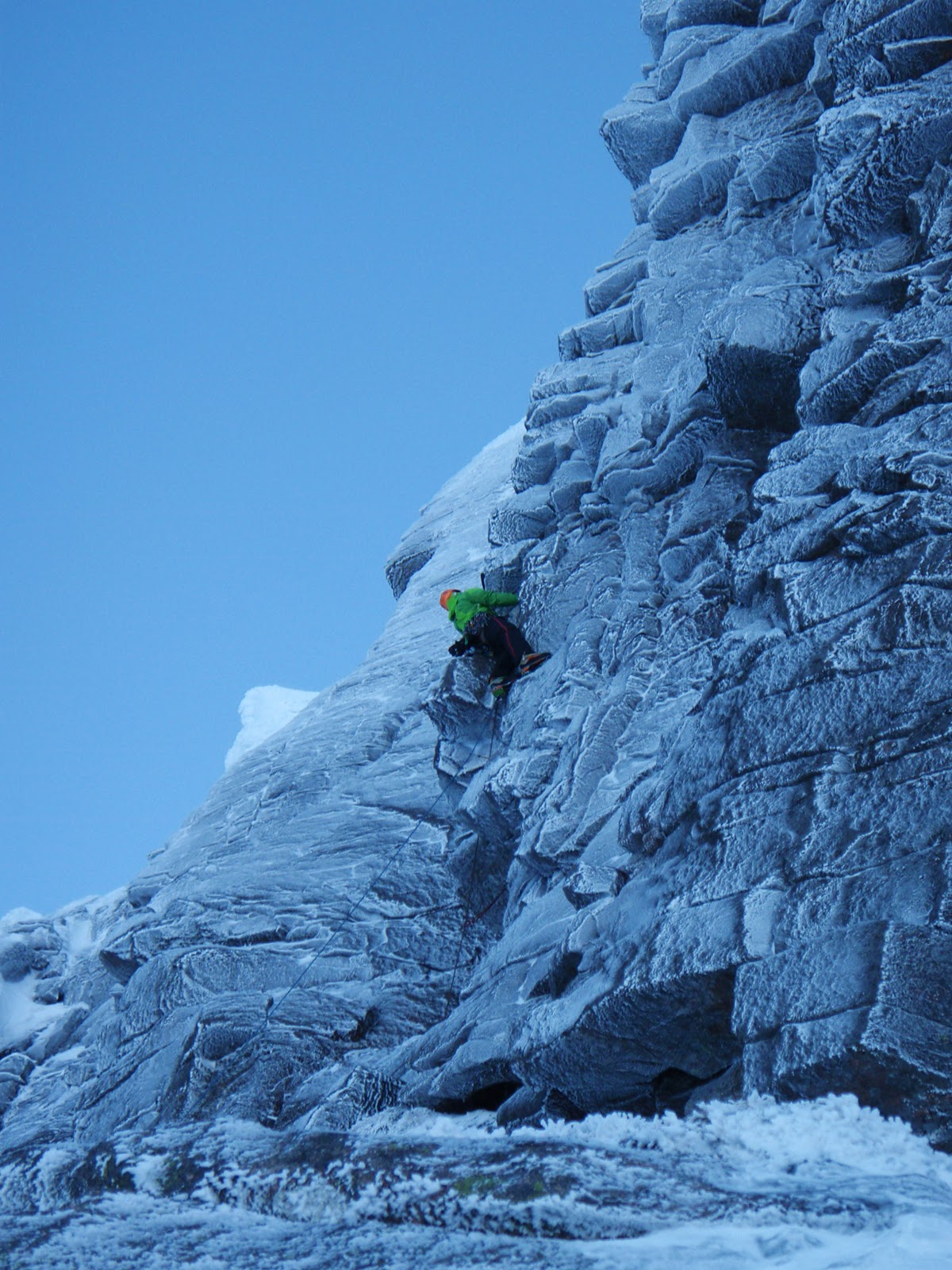 Looking for the way
Photo Credited to Graeme Melville
We walked into Lochain under the full moon and reached the Corrie just as the sun was peeping over the mountains. Even though I was a bit tired from the previous day's antics on "Tyroleans", I knew it was going to be another good one, and was psyched for our intended project.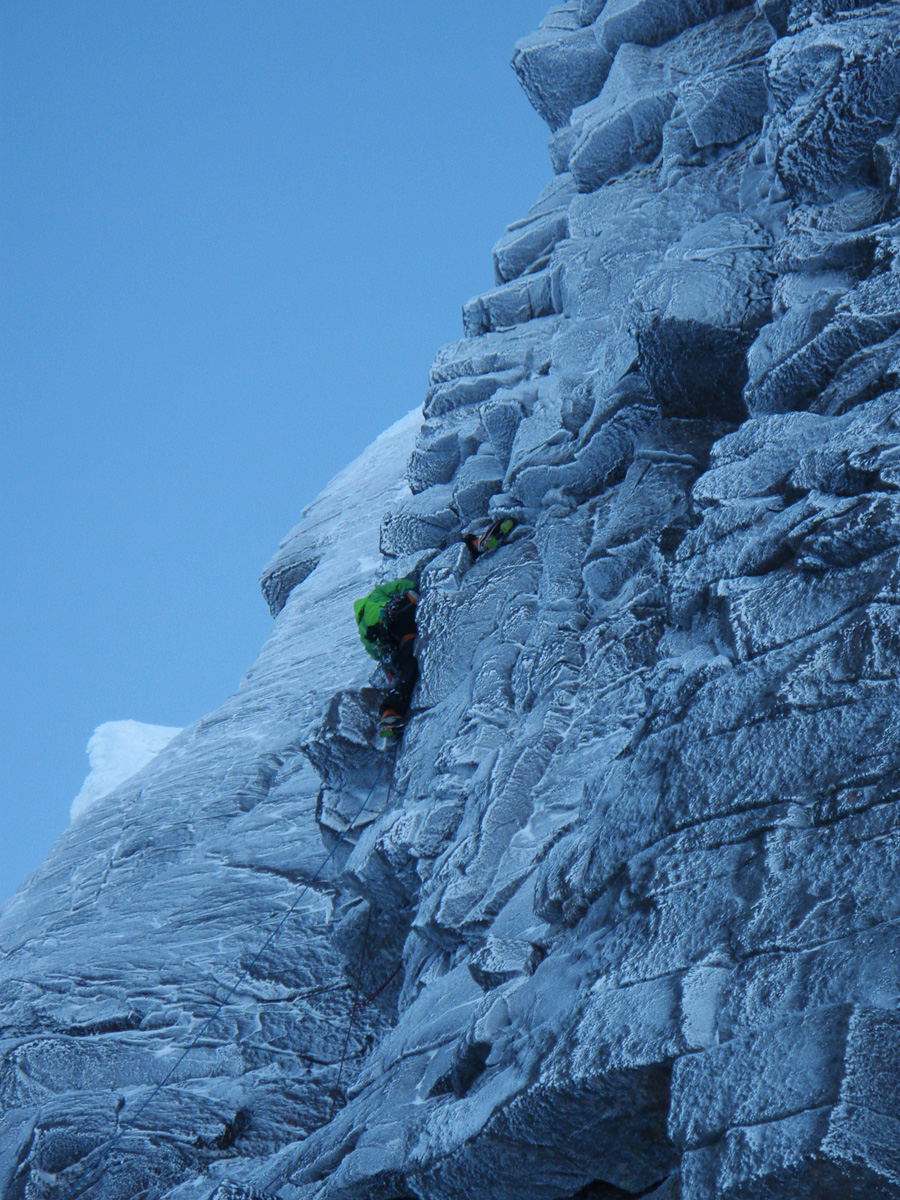 Getting a quick heel/toe rest
Photo Credited to Graeme Melville
We where planning on trying a new line in the corrie and this is where we started. Guy set off up the first pitch and swiftly got stuck into the steep climbing that loomed above. After some ascending and descending on the start of the hard section, it soon became apparent that he wasn't feeling up to it. Unfortunately for Guy, he has been plagued with a nasty flu virus for most of the winter season and hasn't been able to shake it off yet. But his psych levels where so high that he just had to get out climbing even though he wasn't firing on all cylinders! He asked if I would like a go at the pitch, but I said that I thought it would be a waste of time if I had a go as I was also pretty gubbed from the hard previous days climbing!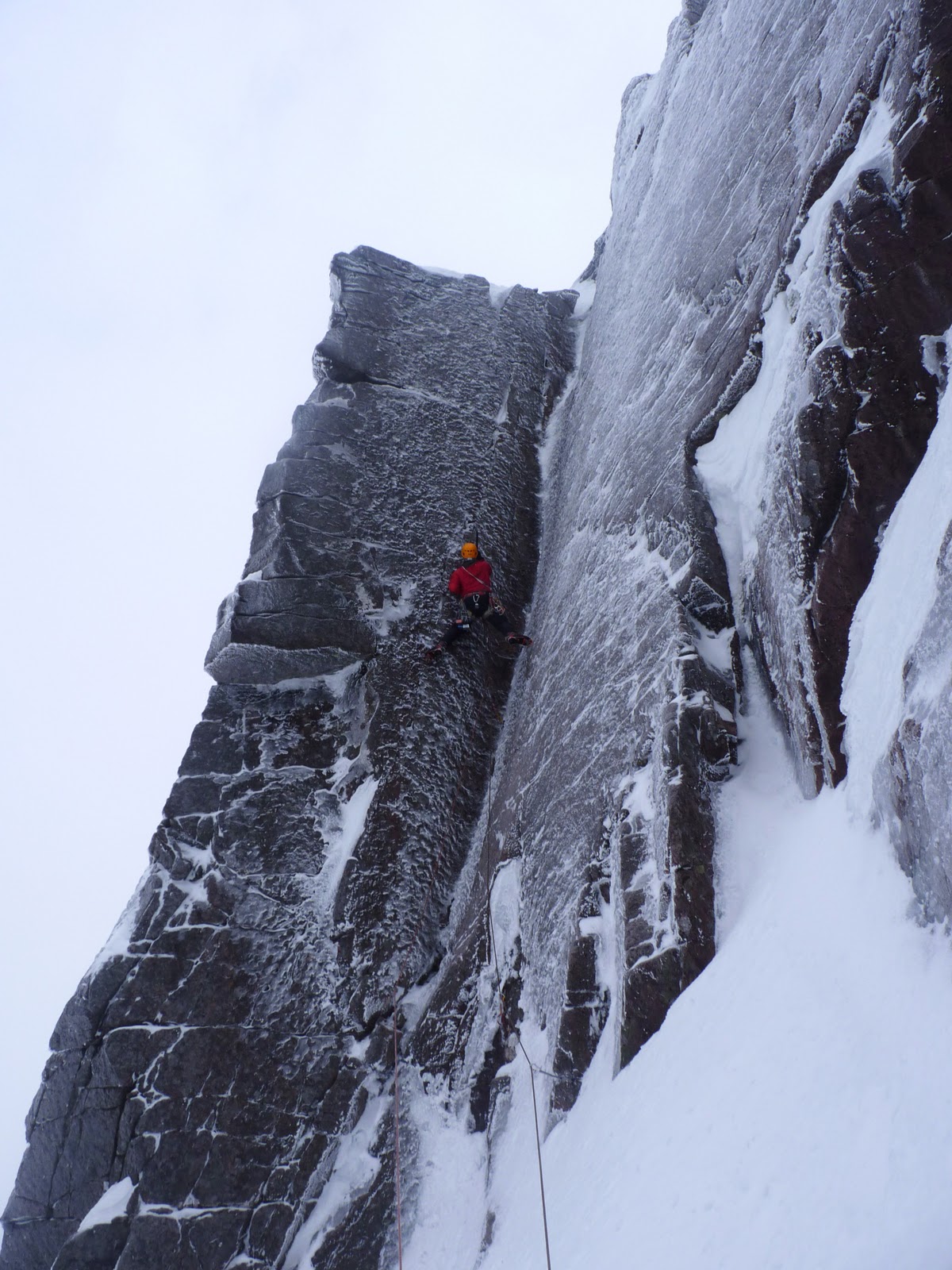 Mike looking for gear on "Inquisition"
Guy quickly down climbed from his high point and we trotted off to the base of Number 4 buttress. This is where our Plan B was situated. We decided to do "Prore Direct", a route which was put up by Ian Parnell in 2007. We quickly swapped over the rack and I set off up the start of the pitch, which was home to some very steep moves and it was tricky to get situated over the bulge. I then moved up and left to make a series of strenuous moves to gain the original line of "Prore" on the main face. As the guide book describes it had minimal gear but also involved some technical thin moves to reach the arête.
Once we had reached the top of the route, we used the rapp station at the top of "Savage Slit" and descended back down to our bags. We then made another relaxing walk to the car under a magnificent full moon.
When we reached the car, I got a call from Mike to say he was on his way back up North from Edinburgh and that he was nearly at Aviemore, so we arranged to meet at the chip shop for a quick bite. After dinner, Guy set off home to Aberdeen and Mike and I headed to Fiona Murray's where we were going to spend the night, ready for yet another day on the hill on Friday.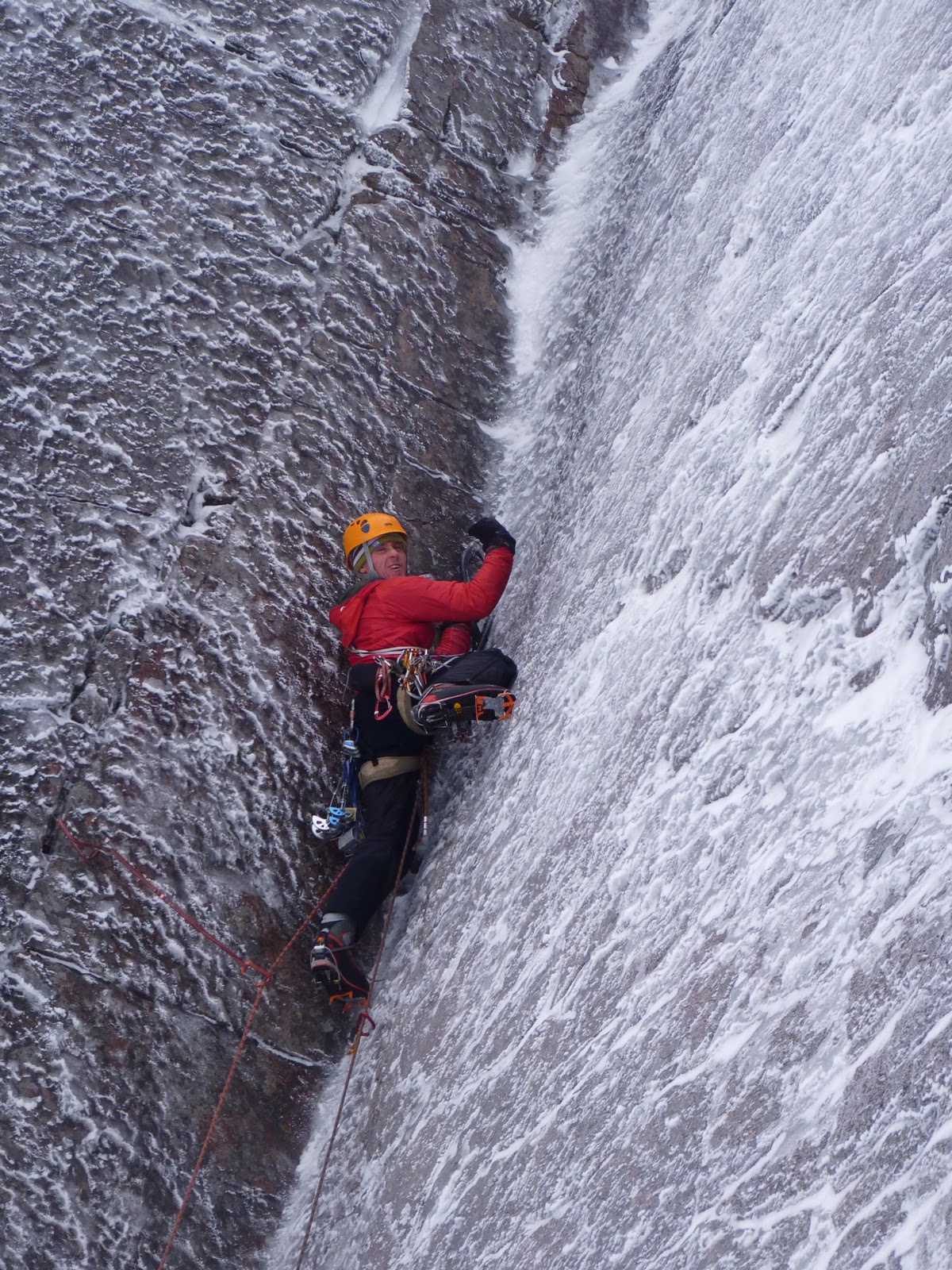 Mike showing me how strong you need
to be to winter climb.
On Friday morning Tweedley and I headed into Lochain again, and this time we headed for the route "Inquisition" on No. 2 buttress. As I was pretty much spent from the previous two days in the corrie Mike lead the route, which involved digging through the very iced up corner to try and find some gear. This turned out to be harder than we had thought it would be and even when he found some kit, it would probably not have been any use if he had weighted it! But thankfully Mike cruised the line and was on the easier ground in no time. He brought me up and we then rapped off an in-situ belay back down to the bags and we were on our way back to the car by 1pm.
This was a nice relaxing day in the mountains and it was a good way to end an awesome three days climbing. I am now resting up to get ready for another upcoming week of cranking.
This week I decided to visit what would normally be one of my regular winter haunts, but which recently I have actually been neglecting. As is always the case with Coire an Lochain, no matter how long it has been since you last visited, it never fails to deliver. This trip was no different.
A 4am start on Wednesday morning saw me meeting Mike Tweedley at Bridge of Earn where we proceeded to head north for an early start in the corries. At 7:30 we started the walk in, this could never be described as a trudge when there's the anticipation of a great days climbing ahead of you. And this day proved to be no exception.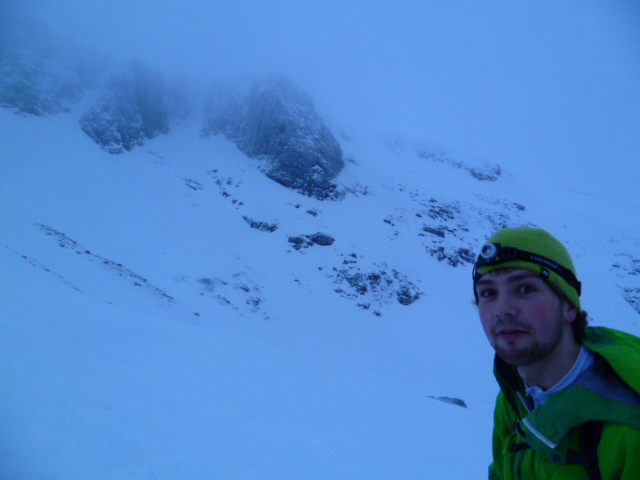 When I realised the route was in condition.
As we grew closer it was evident that all the routes in the corrie were in perfect mixed condition. Amongst them was our intended route for the day, the ludicrously steep "Happy Tyroleans". The perfect conditions certainly did not provide any form scapegoat; the only option would be to make an attempt at this well known test piece with a notorious reputation. It was at this point that the butterflies in my stomach felt like they were on steroids!
We ascended the bullet hard neve to arrive at the base of the line, from this perspective the routes steepness was even more apparent. I could see that the recent training on the overhanging "Fast and Furious" was going to pay off.
We suited and booted while trying to suppress the ever increasing nerves and build the necessary psych which is always the key factor to being successful on a route that's at your limit. There was no doubt that this route would be in this category.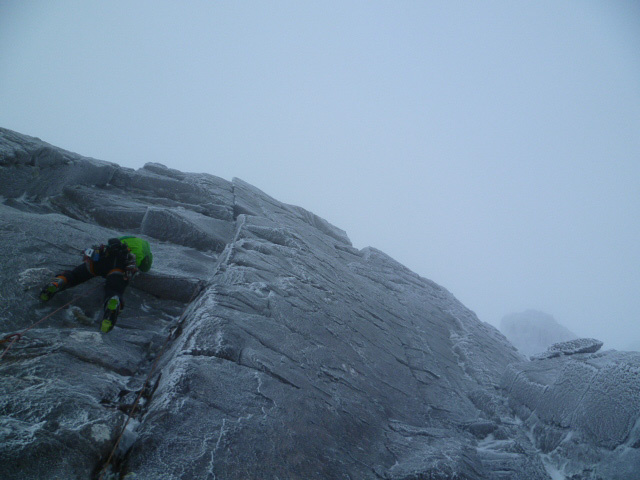 At the start of the difficulties
After moving past the initial thin moves followed by a small bold section it was obvious that I had reached the poor stopping place which, according to the guide book, signified the start of the difficulties. It was in this precarious position that the dark thoughts of potential failure crept into my mind, as the onset of fatigue from my last week of training gradually weakened my arms. This was the first time this season that I had truly doubted my ability to finish a route. The placing of a solid piece of gear gave me the mental and physical reassurance to continue. I decided to ignore the thoughts in my head and accept that you can't be successful on every route but it's always worth a try.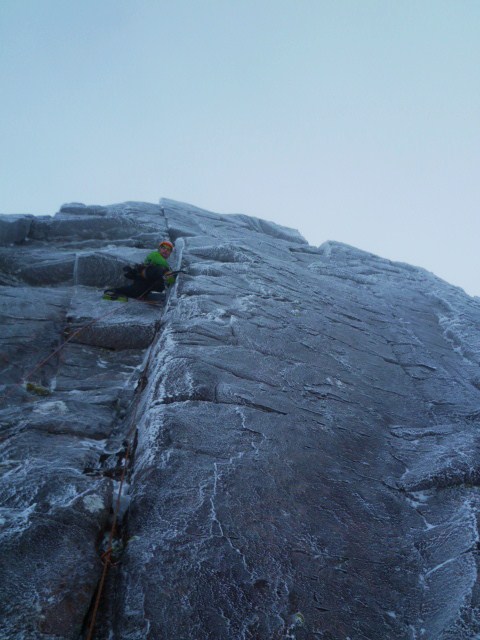 Fighting to recover below the steepest ground
To my surprise, and relief of not yet falling, I found myself ascending the steep crack which leads to the desperate rock over. As anyone who has knowledge of the history behind this route knows, this is the point at which all previous onsight attempts have failed. As I progressed through this final hard section I could see why. Thankfully the adrenaline that always seems to kick in at the crucial point carried me through these powerful moves onto the slab. Normally at this point you would be home safe with the belay a mere move away. This was not the case for me, however, as my axe was well jammed in its previous placement. Never a good situation to be in, but made even worse by the fact that the rock over move had taken me full stretch away from my axe, with the last piece of gear out of sight below me. This led to a teetering retrieval mission which involved me utilising every limb and I was eventually successful by using my foot to work the axe free.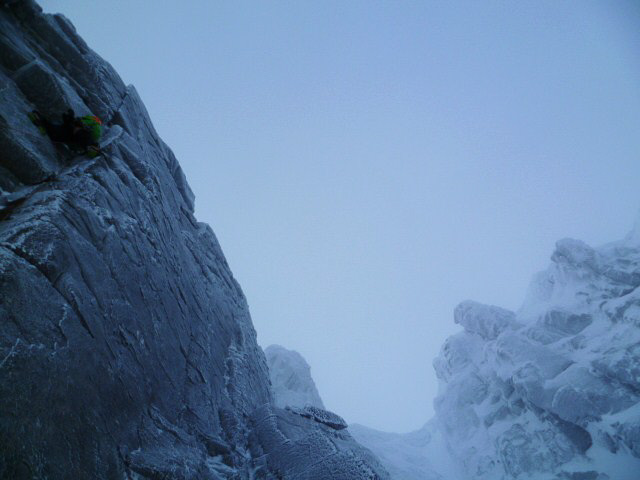 Trucking on
To great elation I was finely at the belay. All that was left to do was to give out the necessary whoops of joy that were reciprocated by Mike and set up the belay for his ascent. He made a swift and clean second of the pitch except for the repeated glitch of a stuck axe in exactly in the same place. However, after a similar retrieval he was at the belay with me.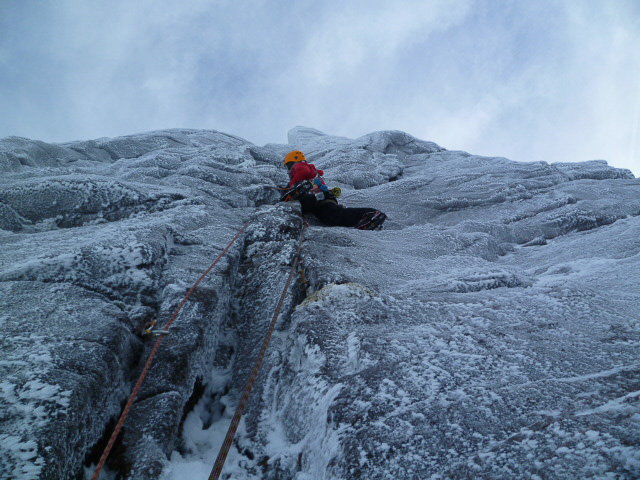 Mike on his way up the icy second pitch
It was then mikes turn to lead the easier second pitch to finish the route. Easier, however, does not mean easy! The pitch was extremely icy and the protection was hard to find under the thick layer of verglass. Mike put in a sterling effort to complete the pitch despite his earlier comments of being tired from the pumpy first pitch. Once he had shouted to me that he was safe, it was just a case of me seconding to success.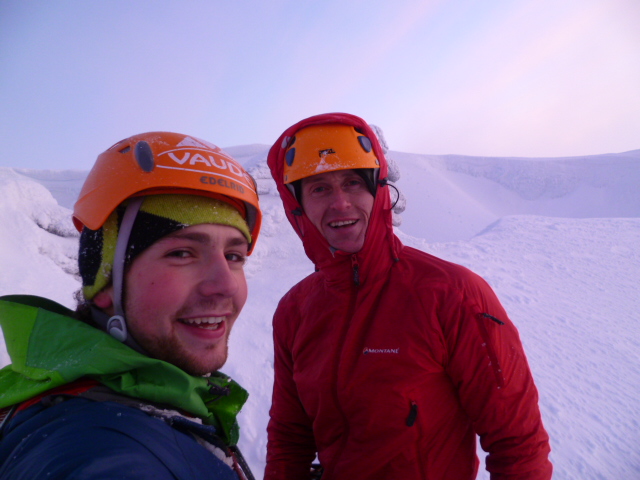 Two Happy Tyroleans made the first ascent,
Two Happy Britoleans made the first onsight!
We rapped back down the line to our bags, sorted
On Thursday I drove West again to meet up with another friend of mine who was over from Chamonix (France) for the festive period. This time it was Will Sim, who was just stopping off in Britain on his was back to the Alps after a successful trip to Patagonia with John Griffith.
I picked Will up at the Green Welly Stop in Tyndrum, where his parents had dropped him off on there way north. We talked about where to go, and from the weather forecast it was obvious that we had to get as high as we could due to the high temperatures that where melting most of the Scottish winter conditions. So the Ben was the obvious option.
Will was psyched to get on something hard and preferably a new line, and I had just the route in mind that would enter into both those categories. It was an amazing looking line that Guy Robertson had tipped me off about and I had spied a look at it when I did the route "Babylon" on No.3 gully buttress. It follows the steep crack line up the overhanging wall which is round the arête to the left of "The Secret".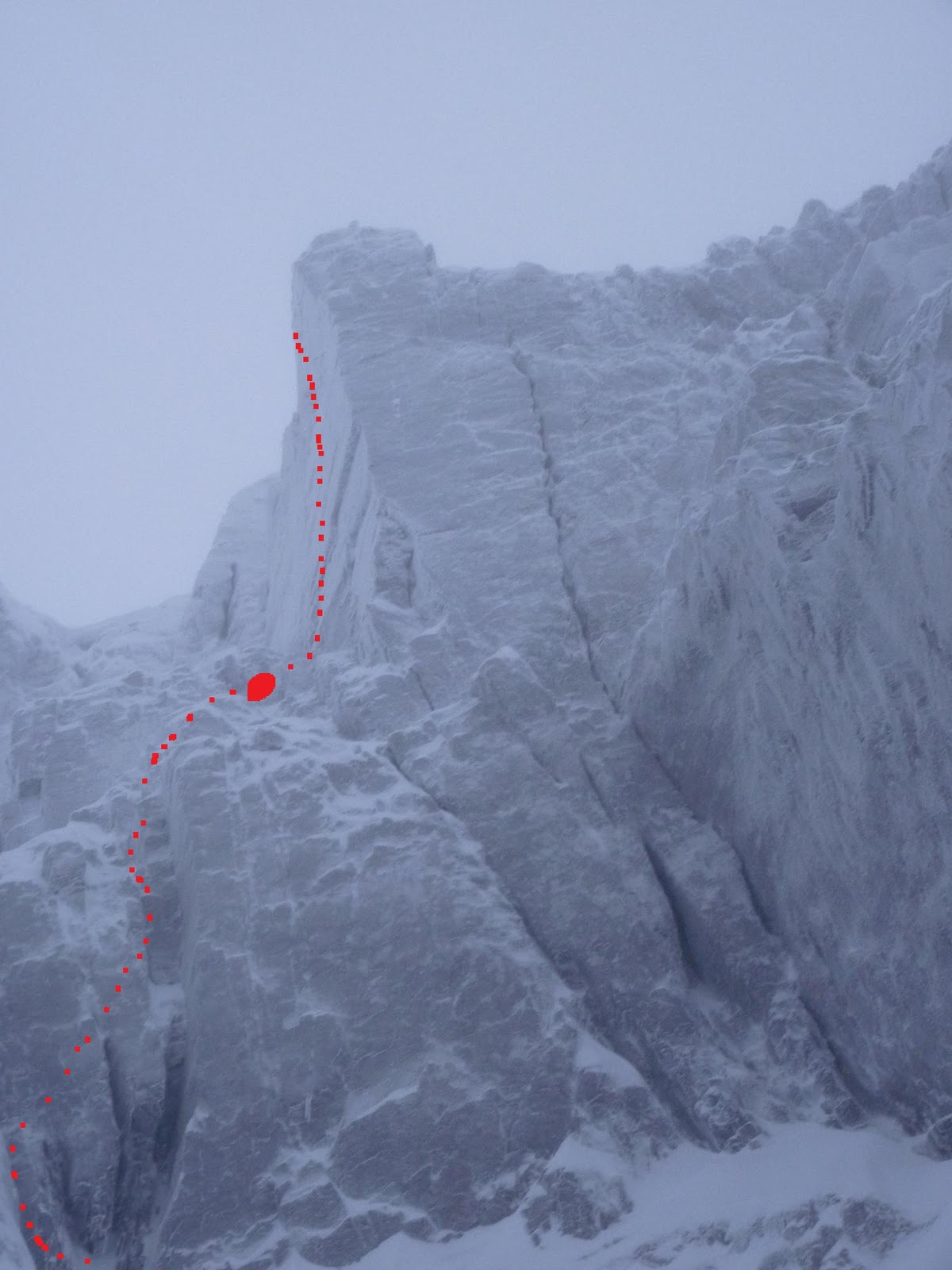 Topo of the route.
This pic was taken on a clearer day
After describing this route to Will and showing him some pictures of the line that I had on my laptop, the psych began to flow freely and we were both eager to give it a go.
When we were walking up No.3 gully, the temp was only just below freezing and the humidity was obviously very high. This did not fill us with confidence for finding our intended route in condition! But we trudged on upwards anyway until our steep objective loomed above us.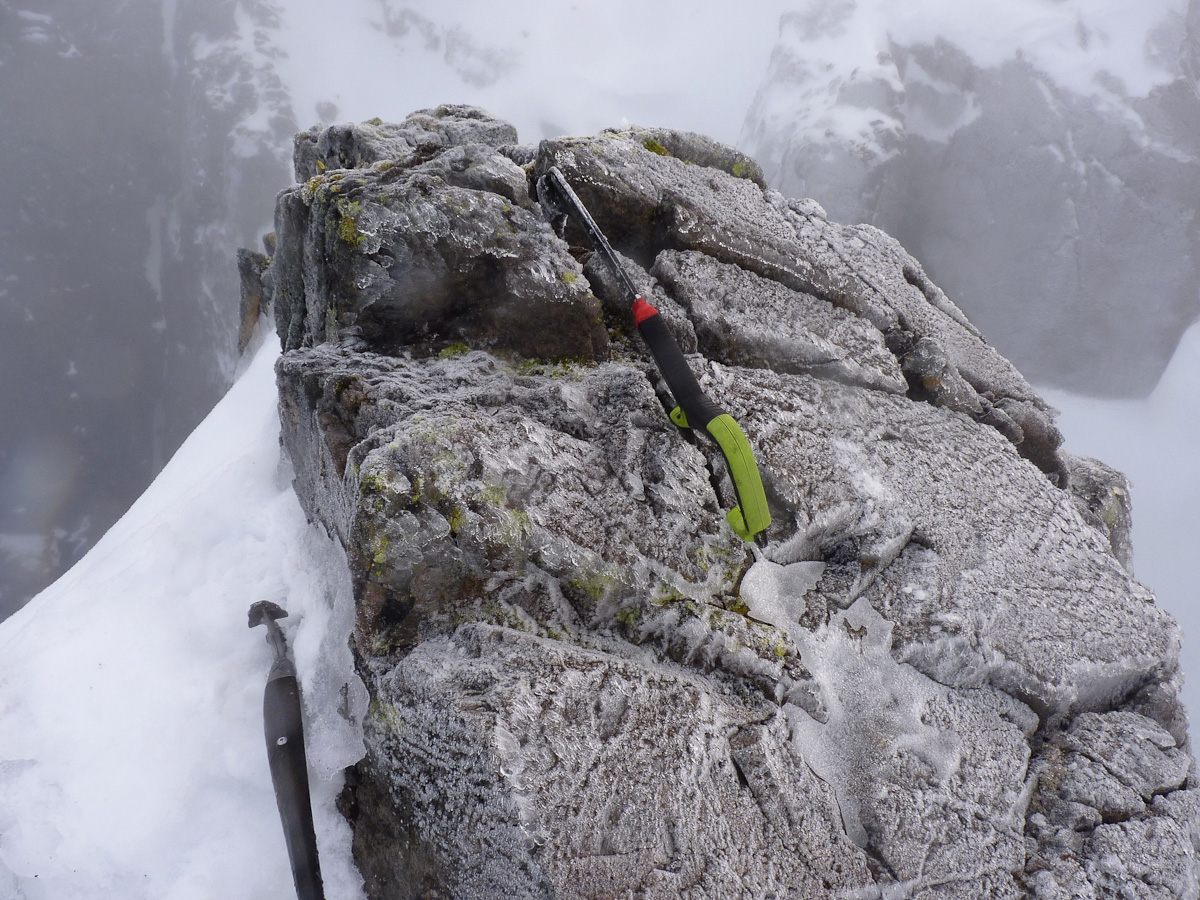 Our weapons of choice
The route looked fierce and very intimidating, but we where keen to give it a shot. Thankfully all the snow and turf was well frozen and there was ice smears on the first pitch, while the second pitch had a very light riming of frozen hoar frost. Unbelievably, It was looking good!
While we where stood at the bottom of the route, Will commented that the rock was still literally rhiming/hoaring up before our eyes. The wind was blowing straight onto the main/top pitch and it was swiftly getting whiter and whiter. So there was only one thing for it……….
We sat in the freezing wind and snow for 2 hours eating biscuits, chatting about past trips and gathering all our psych. Until we eventually decided to go for this beast of a line. So now the turf was frozen, there was ice and neve on both pitches and the top pitch was in exceptional hard mixed condition, IT WAS GAME ON!
Will started up the first pitch, which climbed a thin ice smear in the right facing corner, then up right onto a steep rock shield, he then traversed further right into the hanging chimney (hard) and up out onto the snowy turfy ledges to below the impending steep rack in the looming headwall.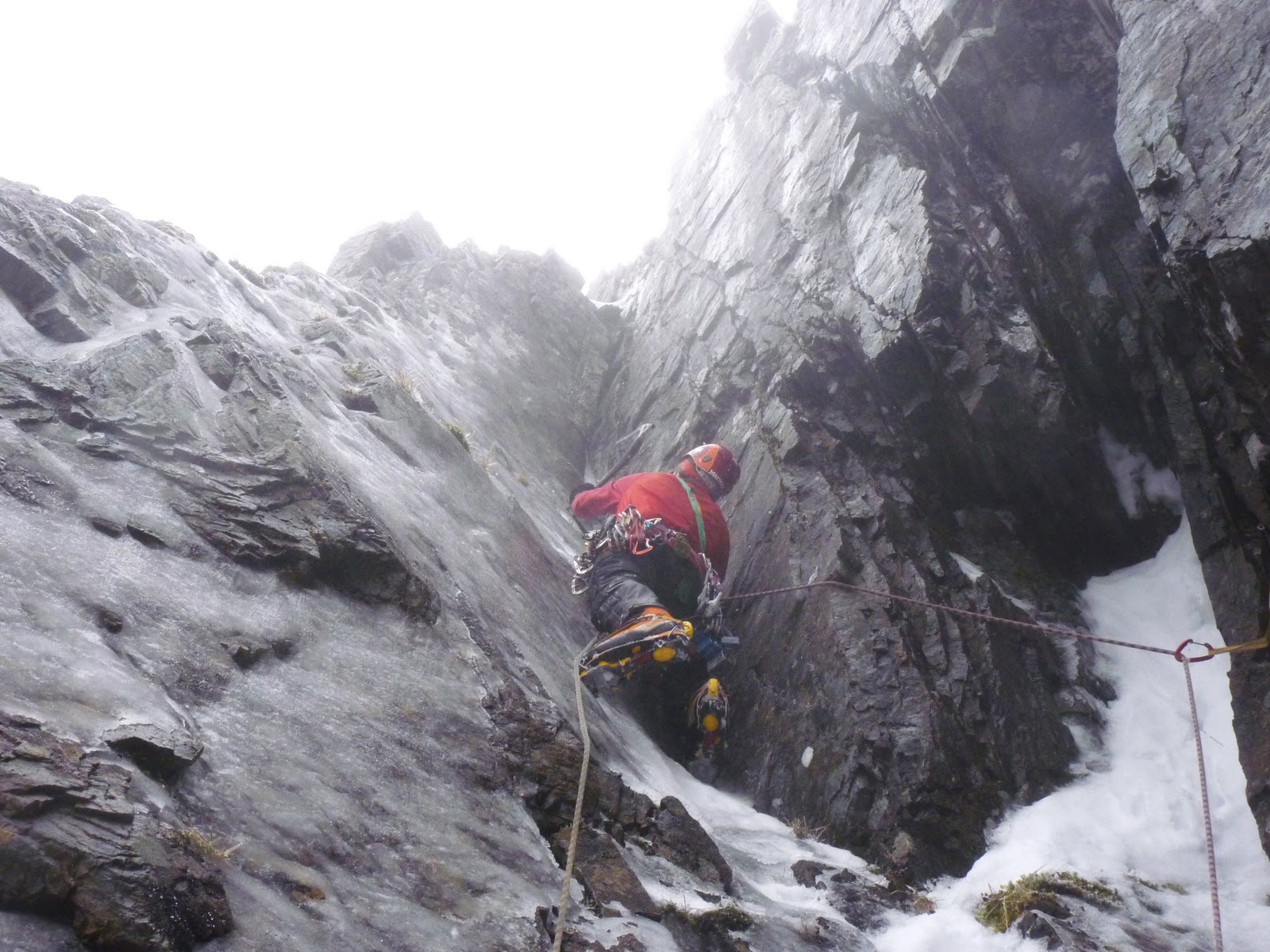 Will starting up the ice smear on the first pitch
Once I had seconded the pitch and was also under the steep second pitch, I soon started having second thoughts about the days objective. "F**king 'ellllll, it looks well harder from here".
Will gave some good words of encouragement and said just to give it my best, so that's what I did! I started up the immaculate crack and much to my disappointment there was very little progress to start. There where no chock stones or good hooks anywhere to be found and after a few up and down climbs I thought it was an unrealistic objective.
I looked around, and saw what looked like a potential sequence to get higher up the pitch. Not wanting to spoil other peoples on-sight of this awesome line, I'm reluctant to go into too much detail on how I did the lower crux moves, but what I will say is that it was super thin, super hard and very pumpy! Once I had reached the obvious chock stone at about half height I swiftly tried to get into a comfy position to try and get rid of the raging pump in my forearms. From my so called rest position (a place where I got even more pumped) I looked up at the rest of the pitch that loomed above. I could see the obvious ledge at 3/4 height that would be home to a very comfy rest, all I had to do was figure out the second crux to get there.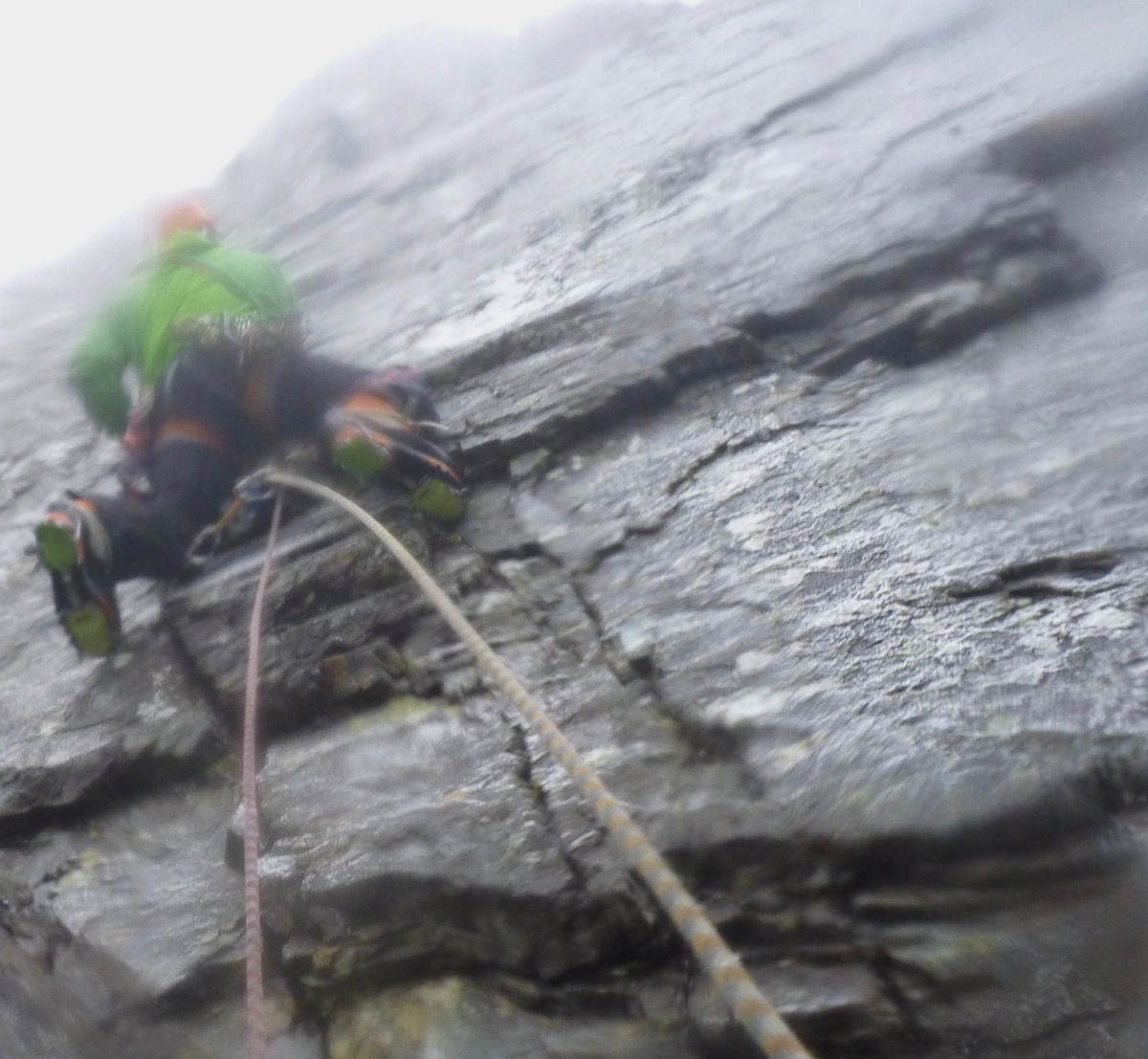 Me heading into battle on the crux pitch
(unfortunately the humidity killed my camera lense)
After some more up and down climbing from the semi-rest position I had placed some marginal kit below the bulge in the icy crack and had kind of figured out how I was going to surmount the ledge. There was a tv sized block hanging over the lip of the ledge which looked like it was welded down by ice and hard snow. I pulled up and hooked this. Suddenly it moved closer and started to topple off, I swiftly shoved it back onto the ledge as far as I could, but all the time I was doing this I was locked off on my left axe and my bicep felt like it was going to explode. I quickly reversed back to the good axe hook and tried to slow my breathing and focus on getting some strength back in my arms. I knew it was going to be very hard getting onto the ledge without knocking off the block, but I had to, because if it was to fall it would defiantly have crushed Will, and that would not have been Ideal!
On my second attempt I managed to get a very high right foot on the ledge, to the side of the block and make an all mighty press move off my left axe while trying to avoid touching the block. The next few seconds are a bit blurry in my mind (probably due to fear) but I found myself stood on the ledge with the block between my feet and my chest pressed hard against the overhanging wall above. I was in a fairly stable position and managed to place a high runner above my head. Unfortunately the ropes where now getting caught round the block and it was starting to move again.
We decided that I would stand very still and in balance on the ledge while Will untied from the belay and soloed further up the turfy ground below to get out of the way of the block. Once he was in