Yesterday Guy and I headed up into the Gorms for one last blast before the winter climbing conditions leave us to make way for another summer.
Below; Guy on first pitch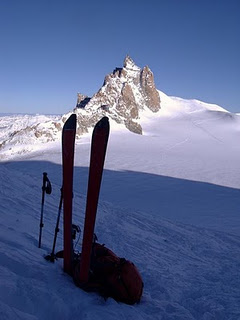 Last time we were in Lochain we had spied a few new lines that looked totally awesome. One of which was a steep overhanging crack line to the right of "Hookers Corner". We scoped the line form below and decided to go for it. There is another route that weaves around and follows all the easier angled climbing close to this one but we decided to go direct and take the steepest line throughout.
After sorting the kit and drawing straws (long and short quick draws) to see who would go first, we got stuck into the pumpy climbing that loomed above. As guy climbed up to below the crack it started to look steeper and steeper with every move he made.
Below; Guy making progress on the first pitch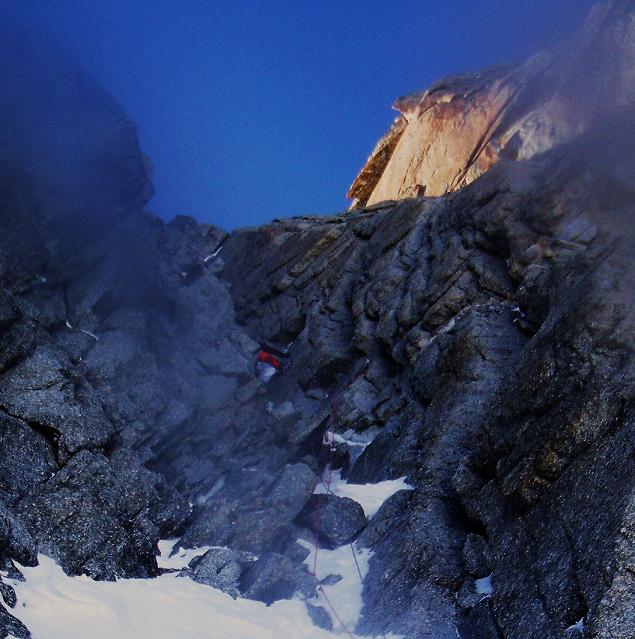 After placing some high runners and reversing back down to de-pump on the lower ledge, Guy took some deep breathes and charged up the technical wall above. Once I had seconded the pitch and had pulled through the ludicrously hard crux, I looked up at the next section which was another hard looking overhanging corner crack except this time it was my lead!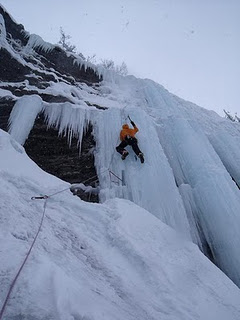 Above; Me starting up the second pitch
A quick swapping of the rack then I was off on my way up the second pitch trying to find a line of weakness over the cracked capping corner/roof. I shoved the largest cam I had into the crack but it was only just big enough, the type of gear that you would definitely not want to fall onto. I finely gathered the courage to pull over using some strenuous laybacking on thin hooks, then came the fighting to get situated on the slab over the roof. All the time that dodgy cam was in the back of my mind except now it was way below me (not reassuring). After another short steep corner I pulled over onto the summit and quickly found a belay.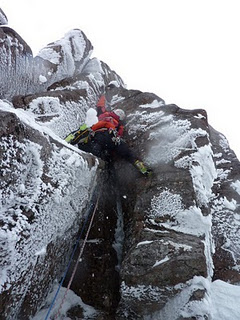 Above; Me on the second pitch.
The wind was blowing hard by this point so once Guy had seconded up to me we swiftly found a rap point and descended back down to our bags at the base of the route. On the way back to the car we talked about the grade and a name for the route, we decided to call it "The Snow Pimp" VIII/9.
Below; "Snow Pimp" topo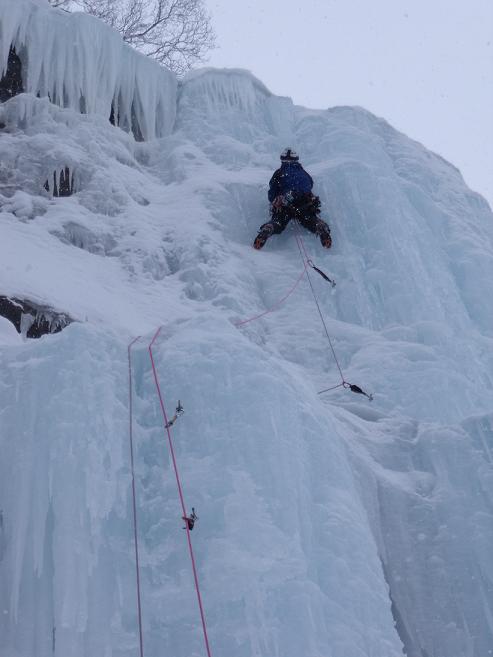 I was glad we made the effort to get one last route done before summer sets in for good and I am totally psyched for next winter and looking forward to see what it has to offer. But if it stays cold this winter might have one last adventure to offer, we'll have to wait and see.