Over the past few days it has been pretty busy for the Scottish tooling scene. On Thursday, Jeff Mercier and Jonathon Jolly arrived in Scotland for a weekend of crushing and fun. They were over from France for the final STS comp and were hoping to get some mixed action in the mountains while they were here. Unfortunately as most UK climbers will know, winter hasn't really arrived in Scotland yet, so there wasn't much mixed to be had up high. They then opted for plan B.
On Thursday they headed to Newtyle. Jeff had climbed here 6 years ago and he knew there was room for another line to the left of F&F. So they packed a handful of bolts and a their big drill in their luggage and set about opening a new line at the crag on their first day.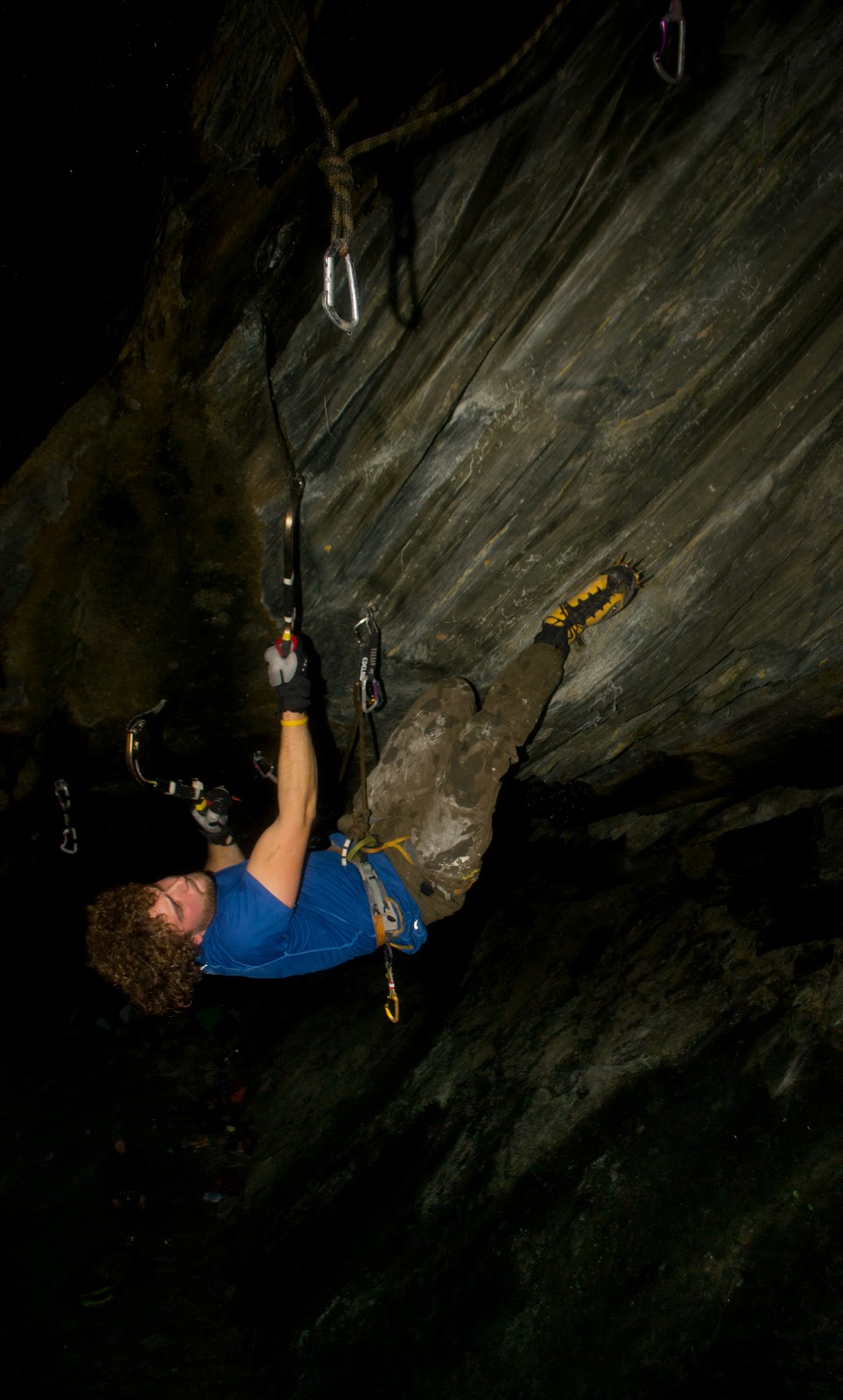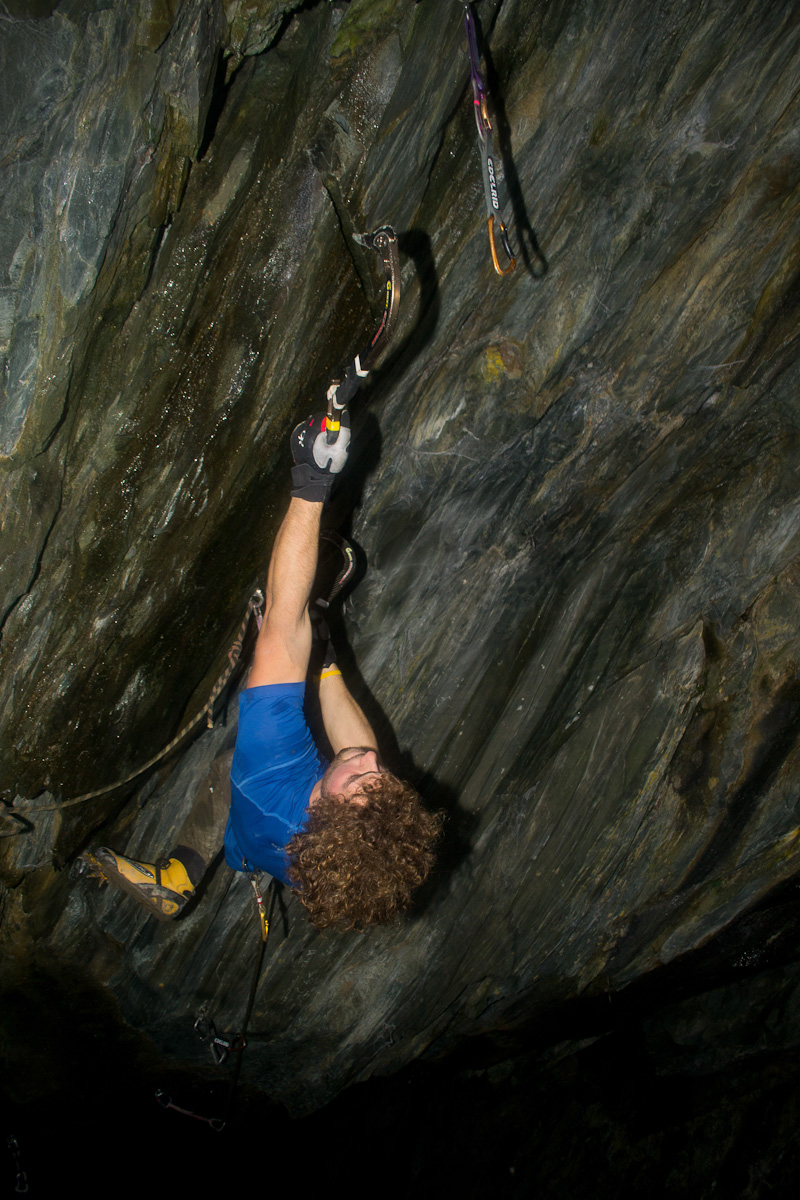 On Friday, Adam and I headed back to Newtyle to get stuck into some redpoint action on "Too Fast Too Furious" and also met up with John and Jeff. It was fun to climb with such inspirational and strong climbers who, like myself, where just there to have fun and a good time even if we didn't tick our intended routes. Jeff managed to get his new project ticked on his second try after failing on his flash attempt due to the dripping/soaking conditions of the cave. They called the new line "DTS Spirit" and I'm looking forward to getting on it to see what it's like.
By this time the cave was heaving and there where loads of people climbing, watching and chilling out, Including Dennis Van Hoek who was over from the Netherlands for the STS comp. Later on Jeff did "Torchlight" the D12+ which is found between "Training for Something" and "DTS Spirit". This was inspirational viewing and got me psyched to give this route a go as well. All in all it was a good day and after continuing well into the dark with head torches, we finally left the cave tired and ready for a bit of rest.
The next day Mike and I returned to the cave for another session on the extension which proved to be very beneficial as we found some crucial beta which would be needed to get this route sent and put to bed. Although we did not get the route done on Saturday, I knew that with the new found beta and a rest day, the route would go down on my next visit (hopefully).
On Saturday evening I headed across to Glasgow where the final STS tooling comp was being held. I was in time to catch the end of the qualifiers and the final, then it was on to the after party/drinking. It was good to catch up with everyone after the comp and chat about everyone's goals for this winter season, but it was also cool to chat with Jeff and John about their plans and objectives for this winter. Hopefully if the conditions get good in time they will be able to come back over for some crushing in the Scottish mountains.
Early Sunday morning we eventually made it to bed in the hotel and after some mix ups with alarms and timings, Jeff and John raced off to the airport after only a couple of hours sleep, just in time to catch their plane back to France.
Dennis and I headed back to mine and then chilled out and recovered for most of Sunday. In preparation for some sendage the next day (Monday).
Yesterday James, Dennis, Mike and I headed back to Newtyle to find a very dark, dull and wet cave. We all found it pretty hard to get psyched in the dingy darkness but tried our best to get cranking and get warmed up.
After a quick burn on F&F to get warmed up I jogged around and got psyched for the send. Dennis swiftly got stuck into Jeff's new route and James and Mike also did some cranking. Feeling really good and despite the dull light, I was mega keen to get my route ticked. I set off up the steep wall and cruised to the end of F&F, it was then onto the hanging ramp traverse and into the bad rest. I didn't want to hang around here too long as it's easy to lose energy in the uncomfortable resting pod, so I charged on to reach the lip of the cave and fought to get to good heel hook before the headwall.
This was my previous highpoint, but now I had the new beta it was not long before I was battling my way up the wet chossy groove to clip the chains. Not before both feet blew off on the last move and I nearly slipped off my soaking tools.
I was pleased to get this route and now that it's done, I'm just mega psyched to get on "DTS Spirit".
It has been an awesome couple of days. I got to meet new people and make new friends, got psyched to see everyone enjoying the STS final and listening to how the comp series has got them pumped for the up and coming winter season, and obviously managing to tick the 40m cave at Newtyle was OK I suppose……
For more info from Dennis, Jeff and John, check out their blogs below.