The vie down the Valee Blanch towards
the Grandes Jorrases
After a poor weather day on Wednesday, yesterday Ally and I decided to make the most of the small good weather window that was forecast up high in the mountains.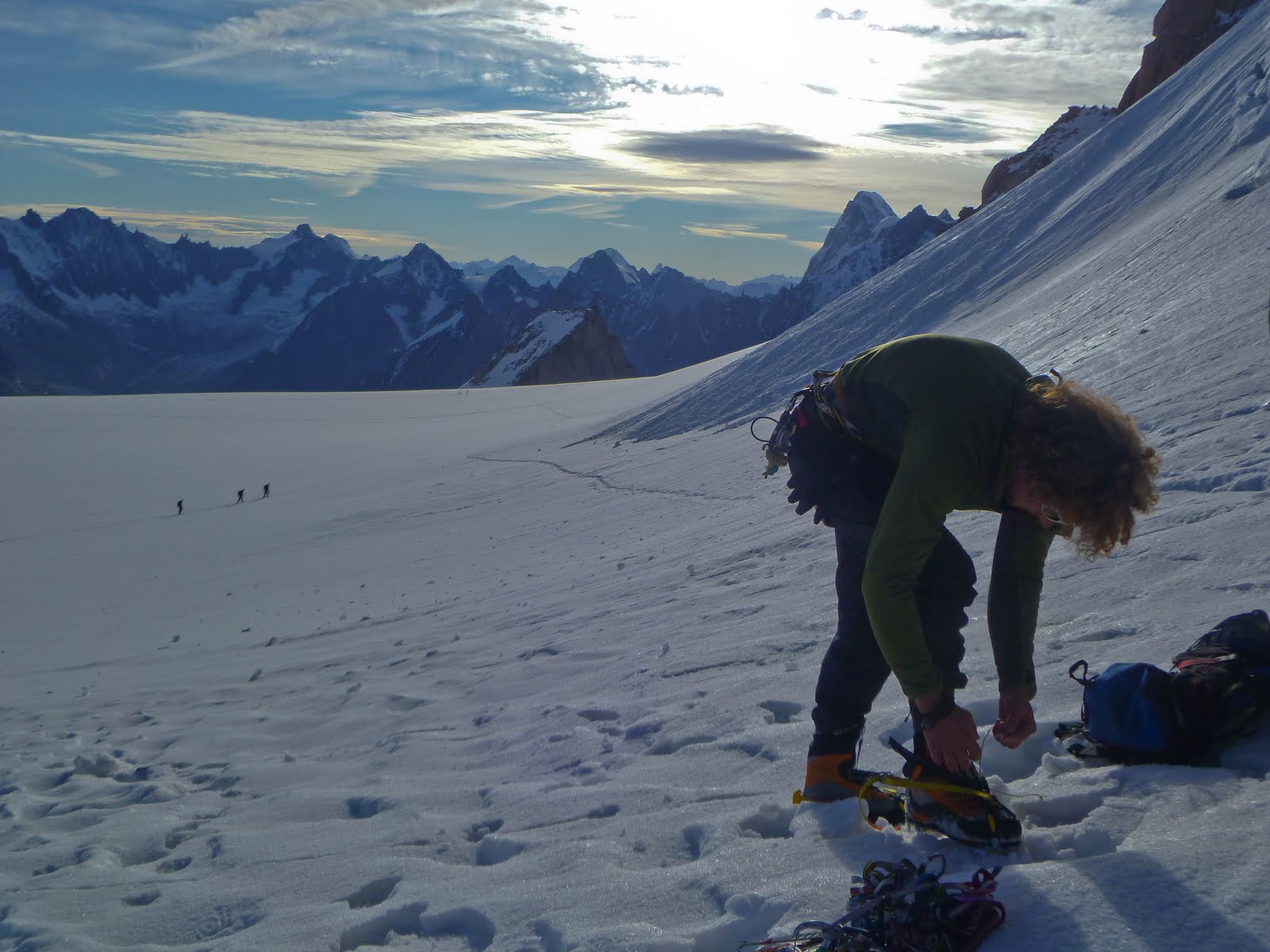 Gearing up at the foot of the Triangle du Tacul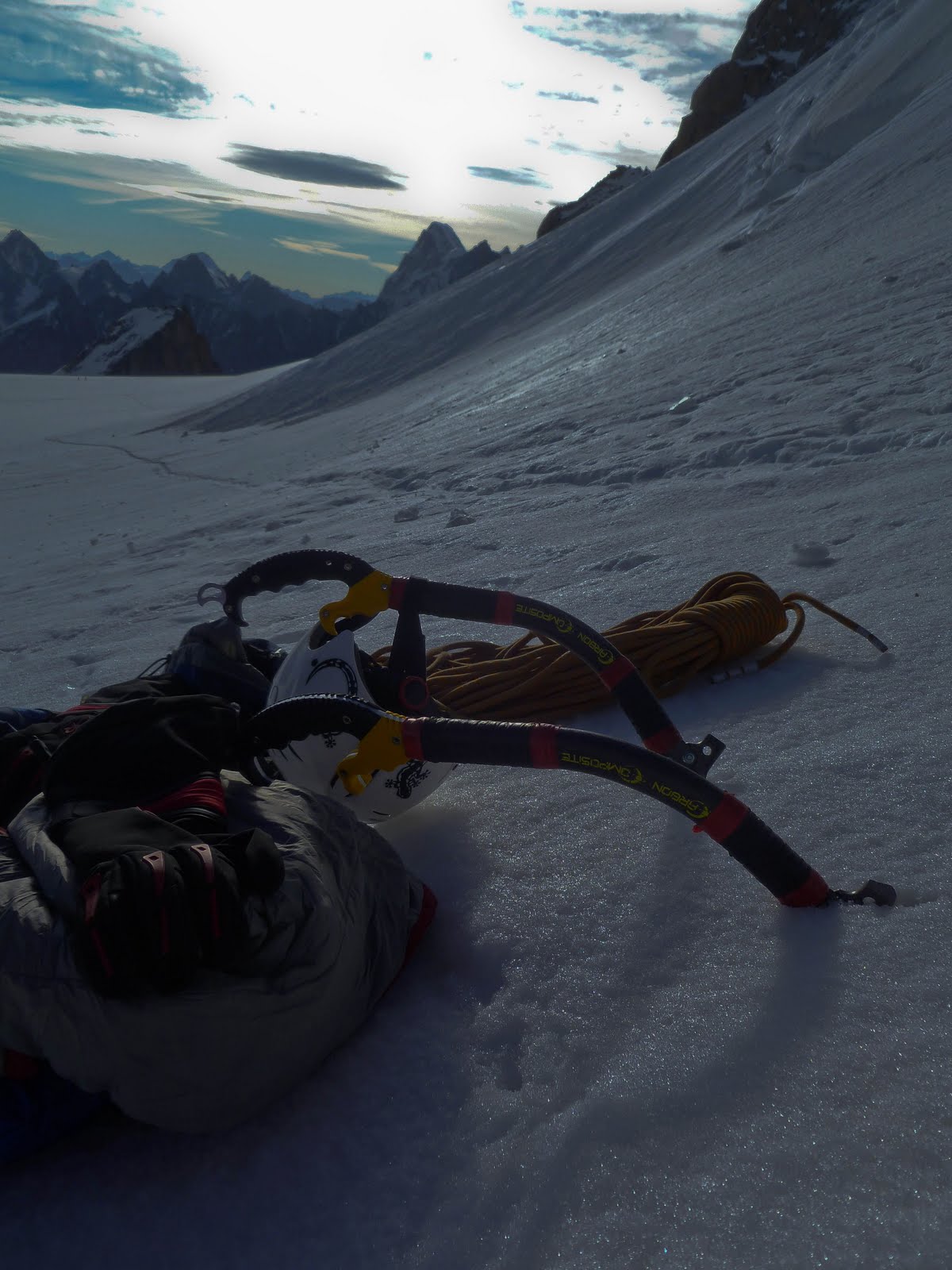 poised and ready!
We headed up early in the Midi bin and then walked over to the Triangle du Tacul which is situated on the North Face of Mont Blanc du Tacul. We had heard from some friends that there were some good Alpine mixed routes in condition on this face, and we were both pretty psyched to check out what this venue had to offer.
Whilst on the approach over the Vallee Blanche glacier, we could see a number of perfectly formed snow/ice runnels dotted all over the face, and once at the bottom we decided to head for the route "Le Temps est Assassin".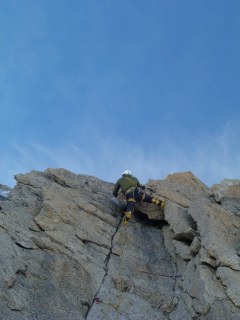 Me on the crux flake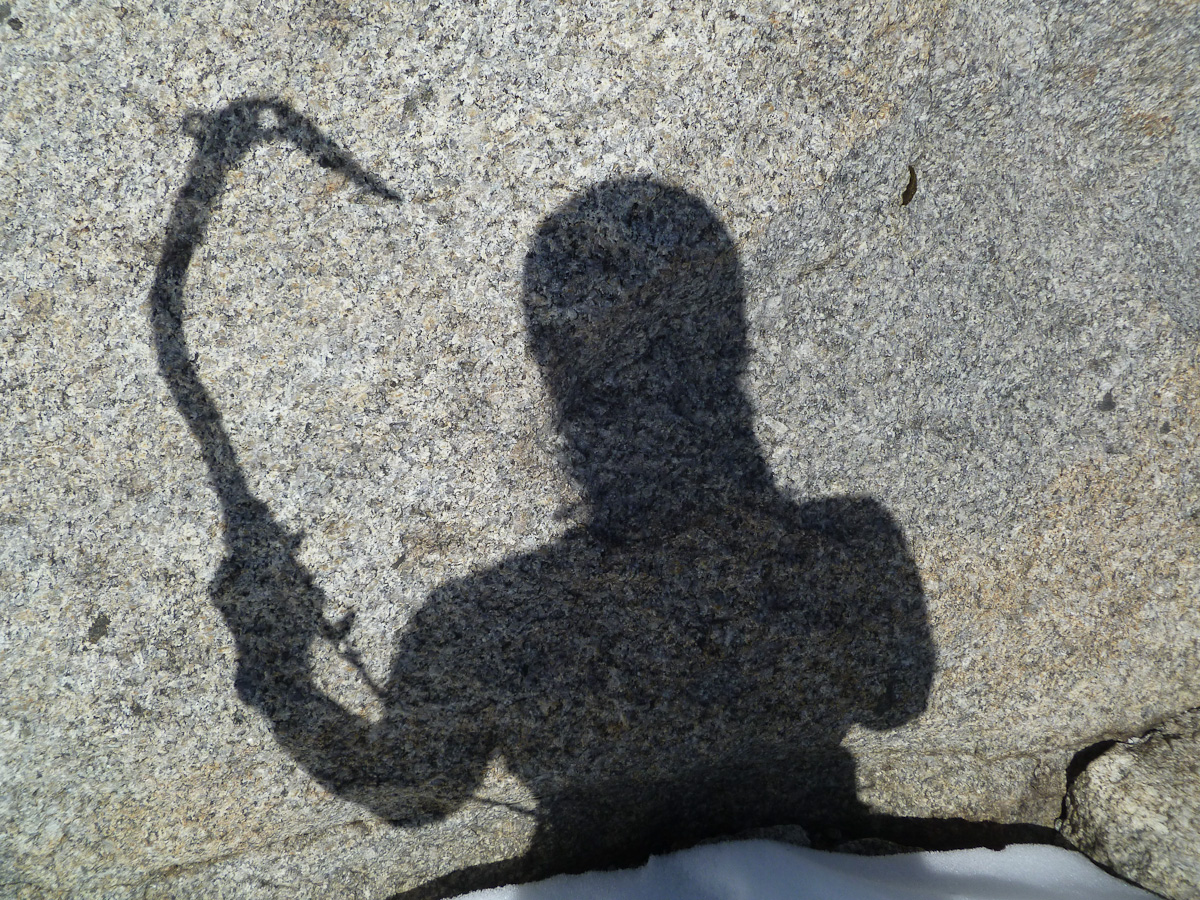 What a view!
I started off up the first pitch, and not wanting too much of a relaxed day, decided to take a more direct and steeper start to the right of the original line to reach the snowy basin and the bottom of the first ice runnel. The pitch started up a small icy chimney, then onto steeper cracked wall to reach a huge hanging flake that had some cruddy ice chocked behind it. This flake pitch formed the crux of the day and went at around Scottish VI/6.
After the first techy pitch, it was back onto the main route which followed a fairly direct line up the snow/ice runnels for two pitches. These runnels where awesome fun to climb, as you had to be super delicate with the ice as some sections where very fairly thin and brittle.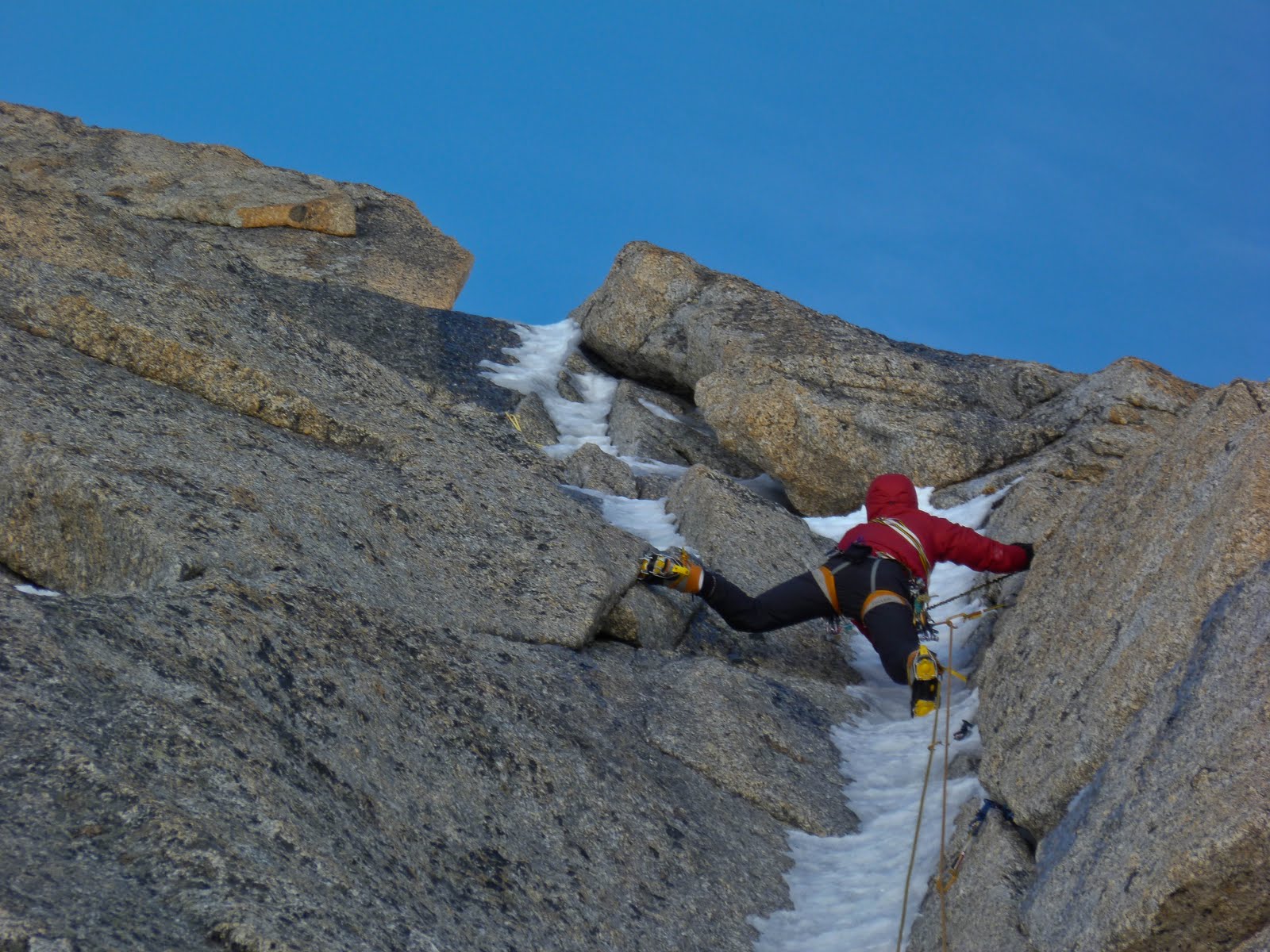 One of the awesome ice runnels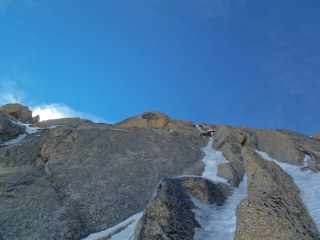 High on the 3rd pitch
Once Ally and I had finished the main line of "Les Temps est Assassin", we traversed hard right to join the last hard pitch of "Perroux Gully". This pitch takes a lightly iced up slab traversing right to gain another hanging snow/ice runnel that leads into the mega classic "Chere Gully". After reaching the gully, we rapped back down to our bags and trotted off back across the glacier in the backing heat to reach the Midi snow arête and up to the lift station.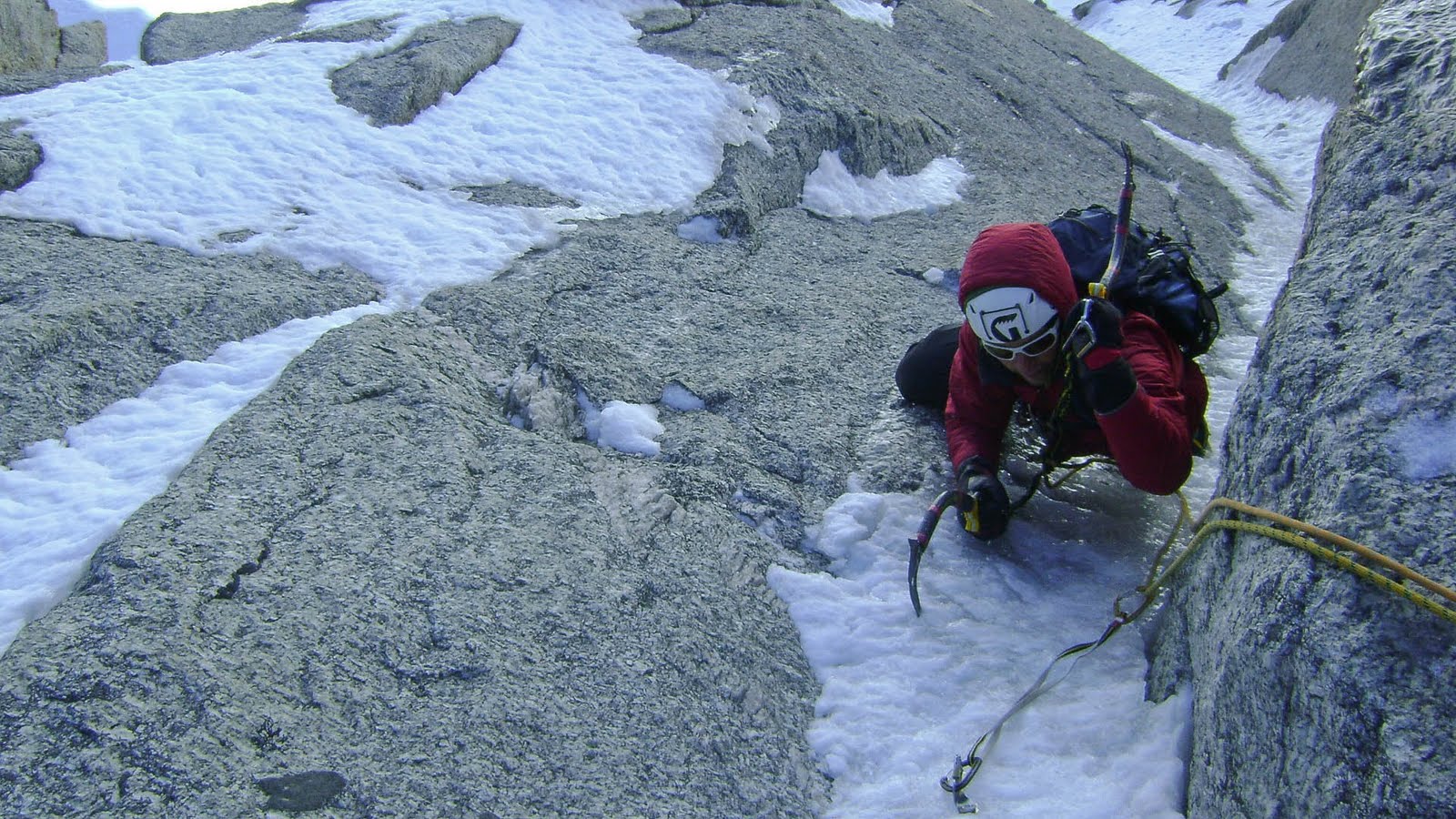 Me seconding the the first runnel pitch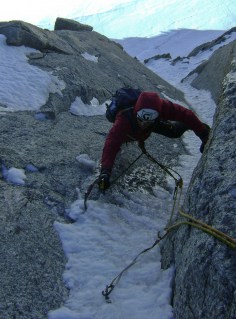 Me reaching the belay after the 2nd pitch