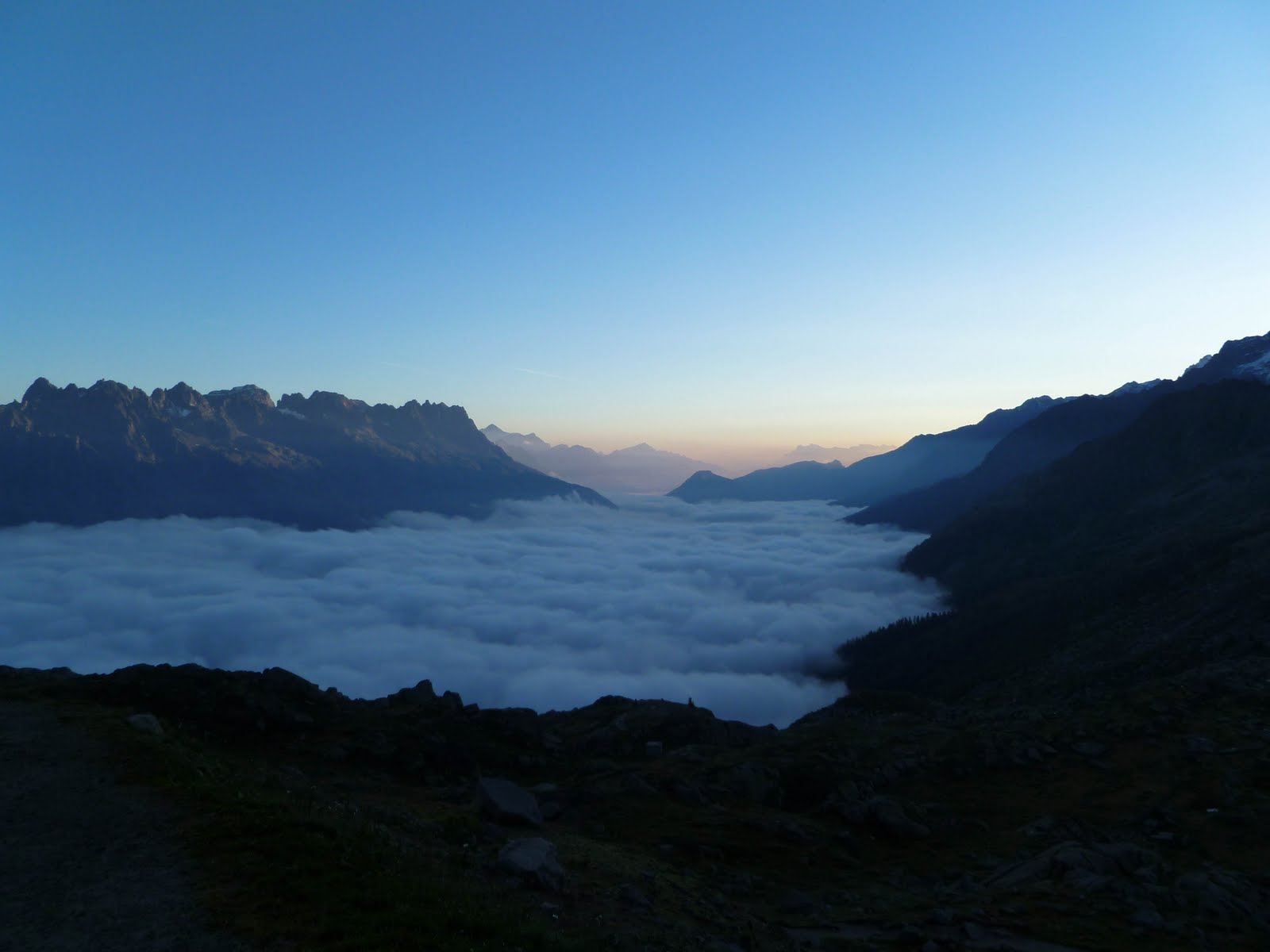 Cloud inversion in the Chamonix valley
Yesterday morning Ally and I headed up to Plan de Aigulle on the first lift, eager and psyched to be back in the mountains after the bad weather spell that Chamonix had been having recently.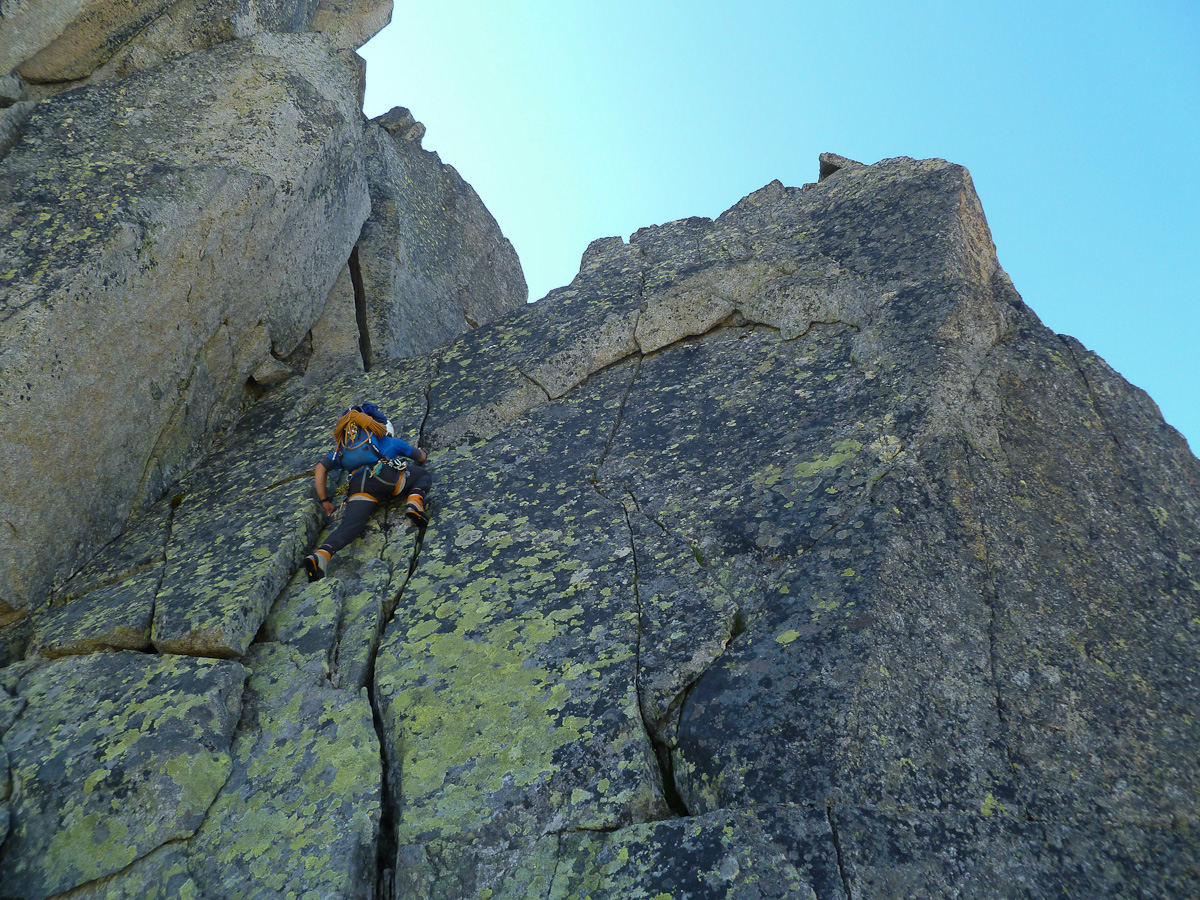 Approaching the off-width on the Petits Charmoz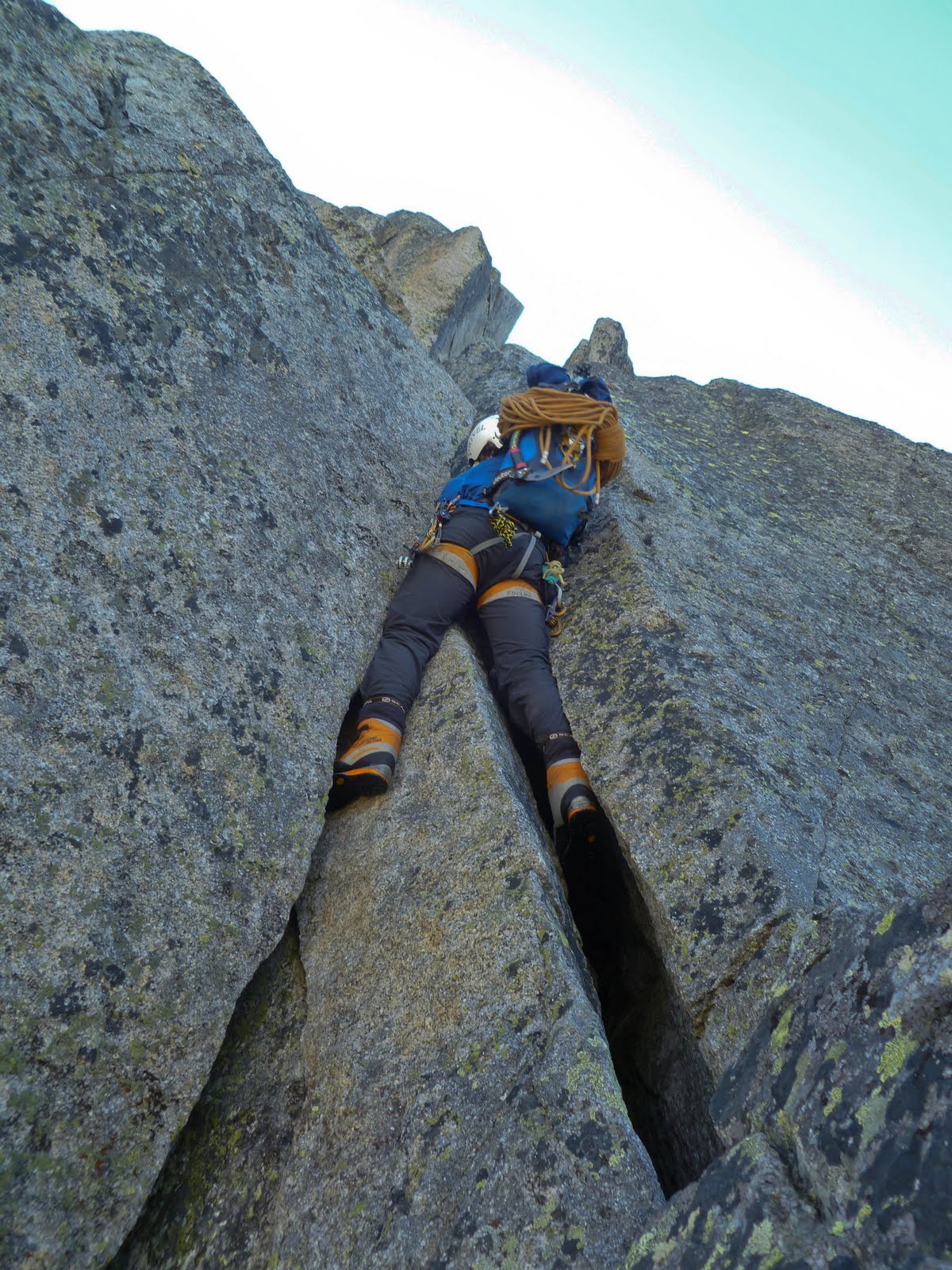 The tricky off-width on the Petits Charmoz
Our objective was to do the traverse of the Chamonix Aiguilles from Aig de L'M to Aig du Midi. But due to the amount of snow and wet rock that was still around from the recent stormy weather over the past two weeks, things where a lot more time consuming than usual. We decided to stop after doing the Aig de L'M, Petits Charmoz and the Grands Charmoz.
Even though we did not do the full intended traverse, the route we did on the Grands Charmoz (NW Ridge) was fantastic and home to some very interesting and varied climbing, from footless hand traverse pitches for 10m where you had to swing a heel up level with your head and rock over (in big boots and a rucksack), to long pendulum swings to get past the featureless walls and back into the icy (meant to be dry rock) diedres. The route was full of character and the guide book description says it all "A long and serious route in a fine and exposed situation that does not appear to have gained the popularity that it deserves."
Moving up the wall to gain the awesome
hand traverse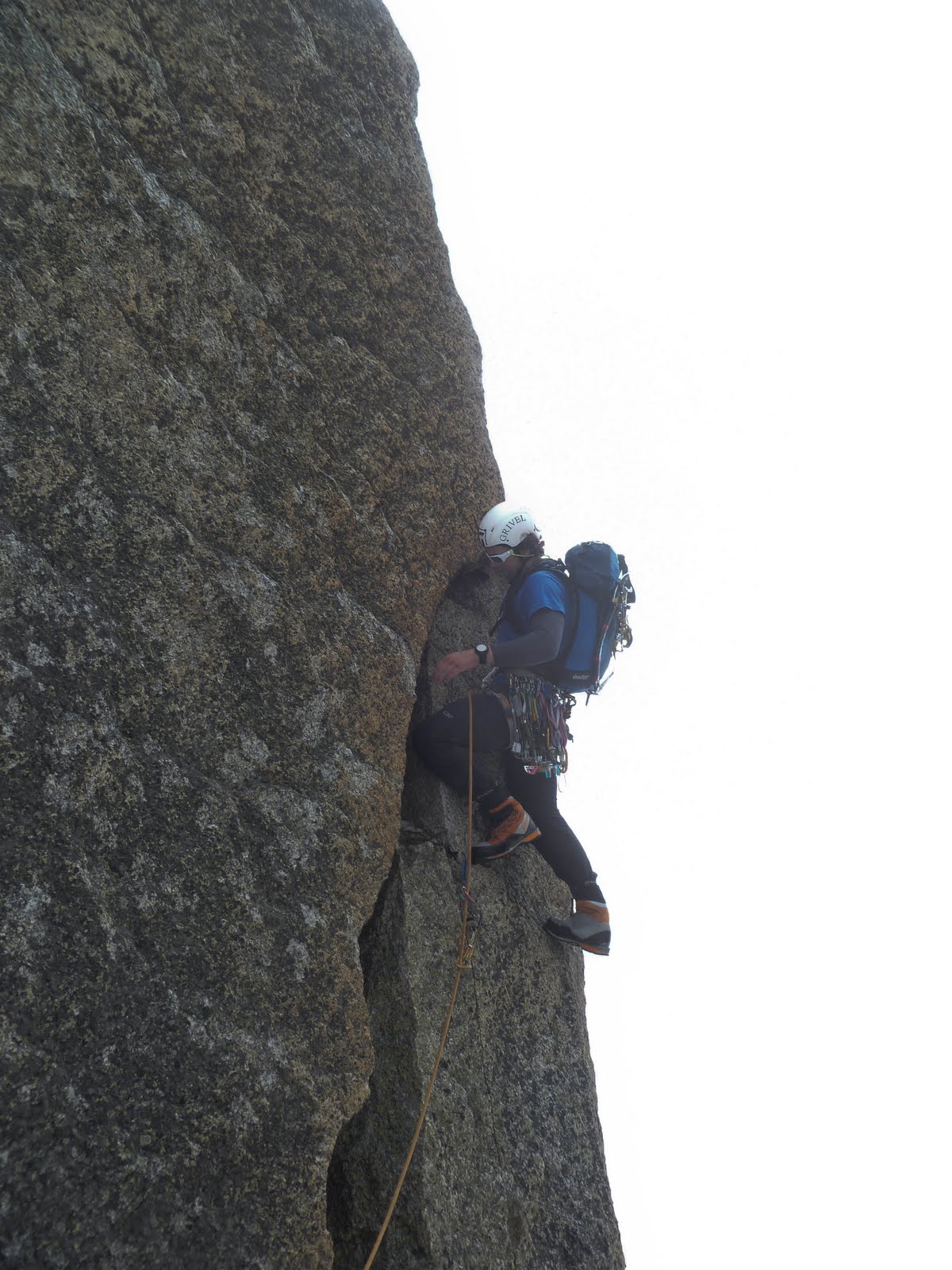 Sorting the gear after looking round the
corner and spying the hand traverse
(foothold-less)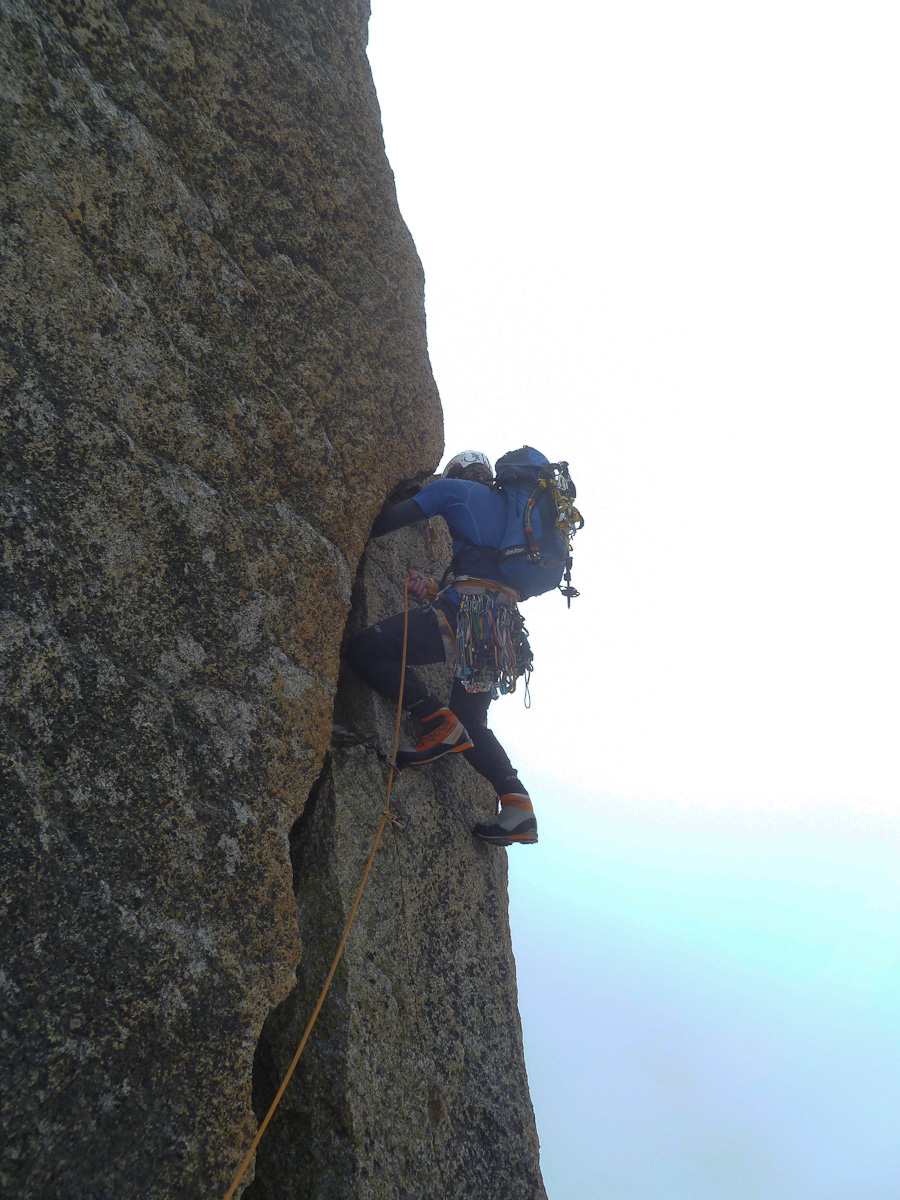 Getting ready to charge
We soloed the first two routes of the day, the N-NE ridge of the Aig de L'M and the SE ridge of the Petits Charmoz and the first half of the NW ridge of the Grands Charmoz. The upper section of the NW ridge is where it really starts to get interesting and the second last pitch forms the crux. This pitch (crux) has a interesting guide book description which didn't make me overly psyched to get stuck in. "Using a rurp or a shoulder to start, climb boldly up and over a smooth bulge until a terrace is reached after 12m".
A rurp is a piece of aiding equipment that is hammered into very shallow thin cracks on near featureless walls. Unfortunately we didn't have a rurp, but thankfully someone had placed a high skinny peg just over the bulge, so the aid access to the start wasn't too bad. The top of the pitch however was a very bold slab which was completely running with water (terrifying), but I managed to squirm my way up this and onto the terrace with a fair bit of grunting and groaning, Just!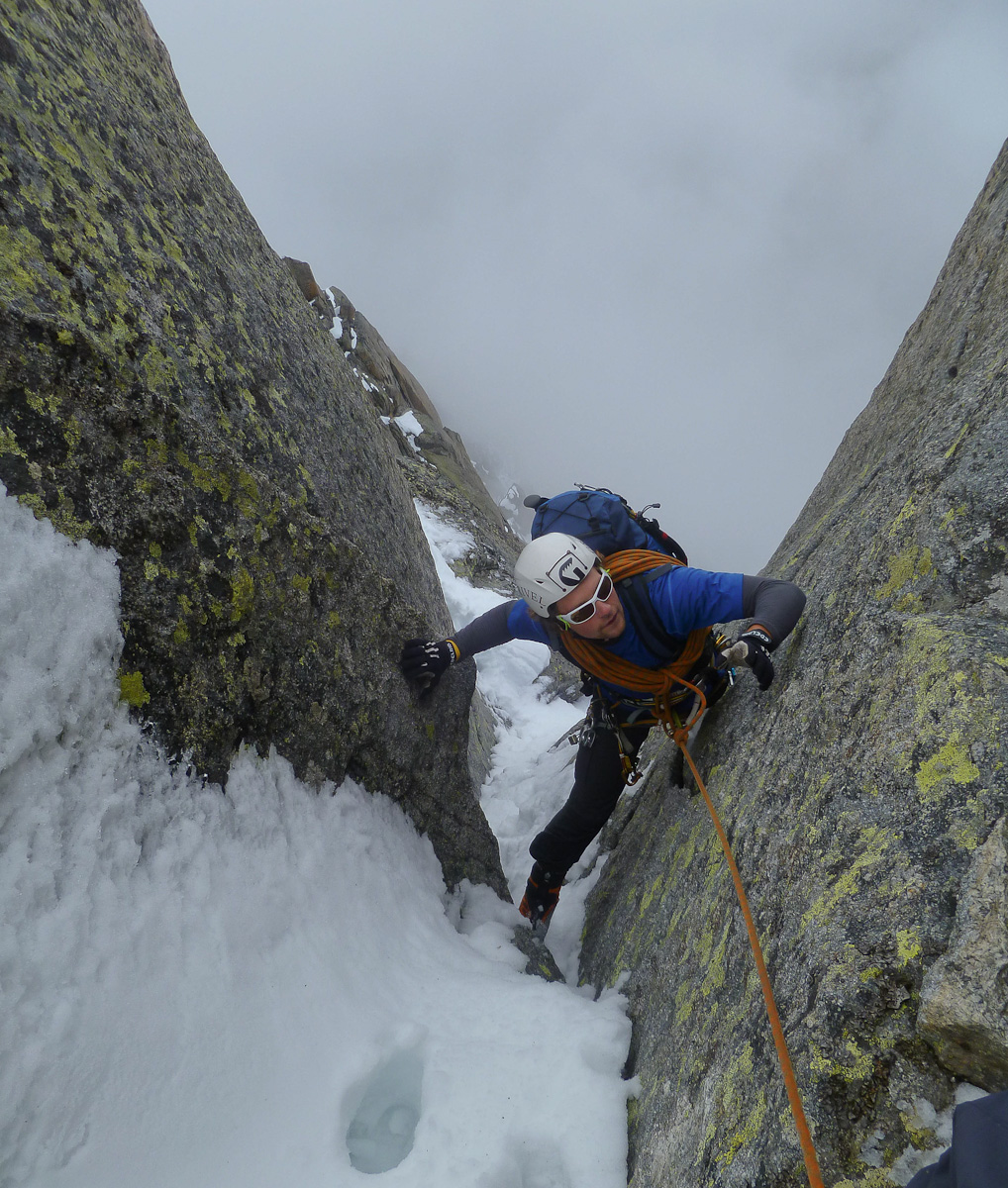 This grade III groove was made pretty
tricky and time consuming due to the snow/ice!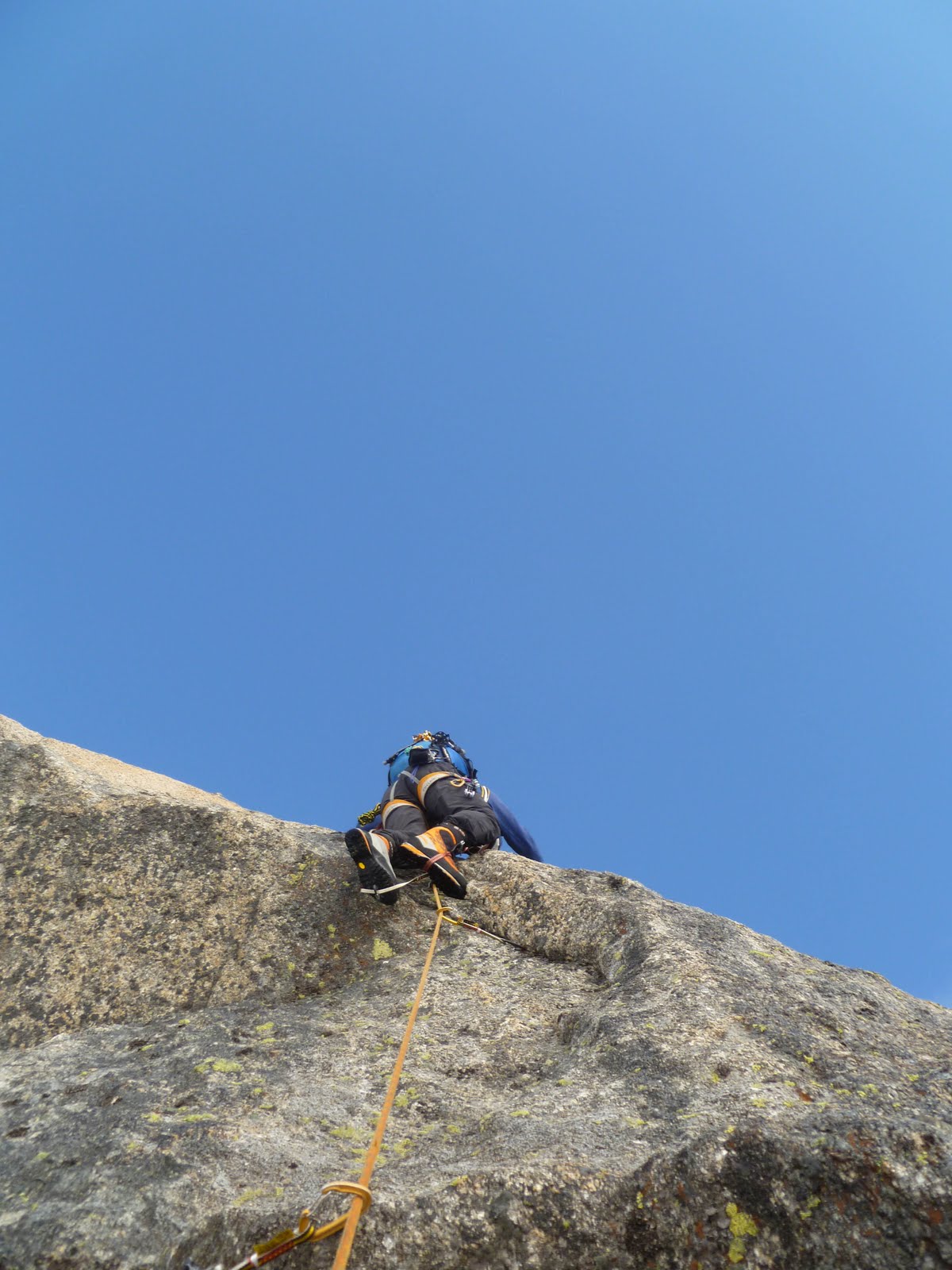 No rurp but still got stuck in!
After the crux pitch, it was an easy 40m to the top of the summit tower and then a bunch of abseils down to the Nantillons glacier under an awesome setting sun. Once on the glacier it was the tedious task of avoiding the mine field of seracs and crevasses in the pitch dark. This is never fun, especially when you've just done a