On Friday Ally and I headed up to the Peigne Slabs for some technical smeary action. We did an awesome route called Verdon Memories which is a classic multipitch line with hard slab pitches of up to 6c. Unfortunately there had been some heavy rain the previous night and the last two pitches where fairly wet. This added to the technical slab experience and proved to be fairly tricky on the damp patches (most of the last two pitches).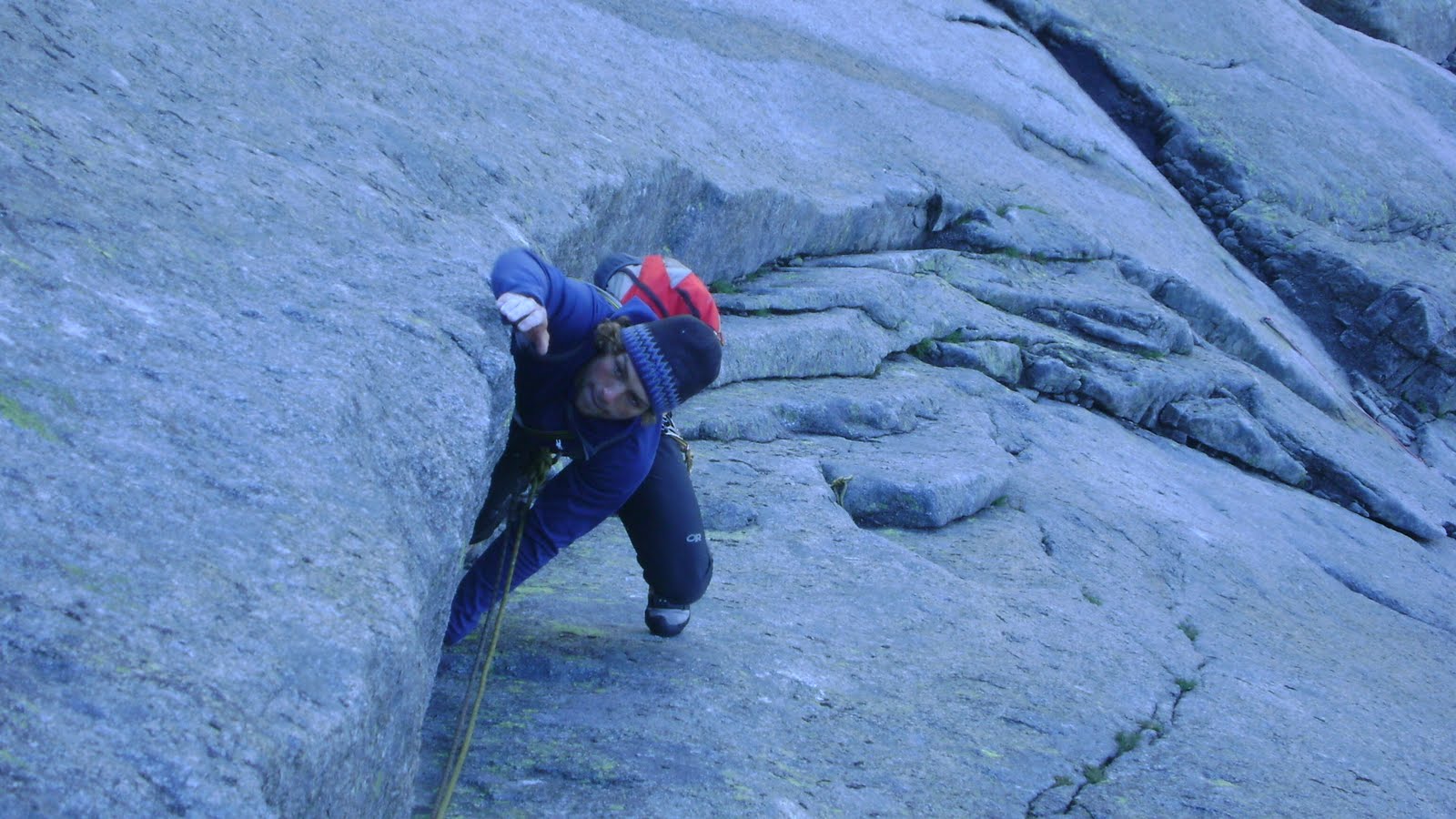 Me seconding one of the earlier pitches of
"Verdon Memories"
After a good day on the slabs, on Saturday we headed to the area of Giétroz for some single pitch sport climbing fun. We both tried the brilliant 8a "Rev de singe" and by the end of a long hot day had both started to make some good progress on the line and we are keen to get back up soon for some more hard tickage!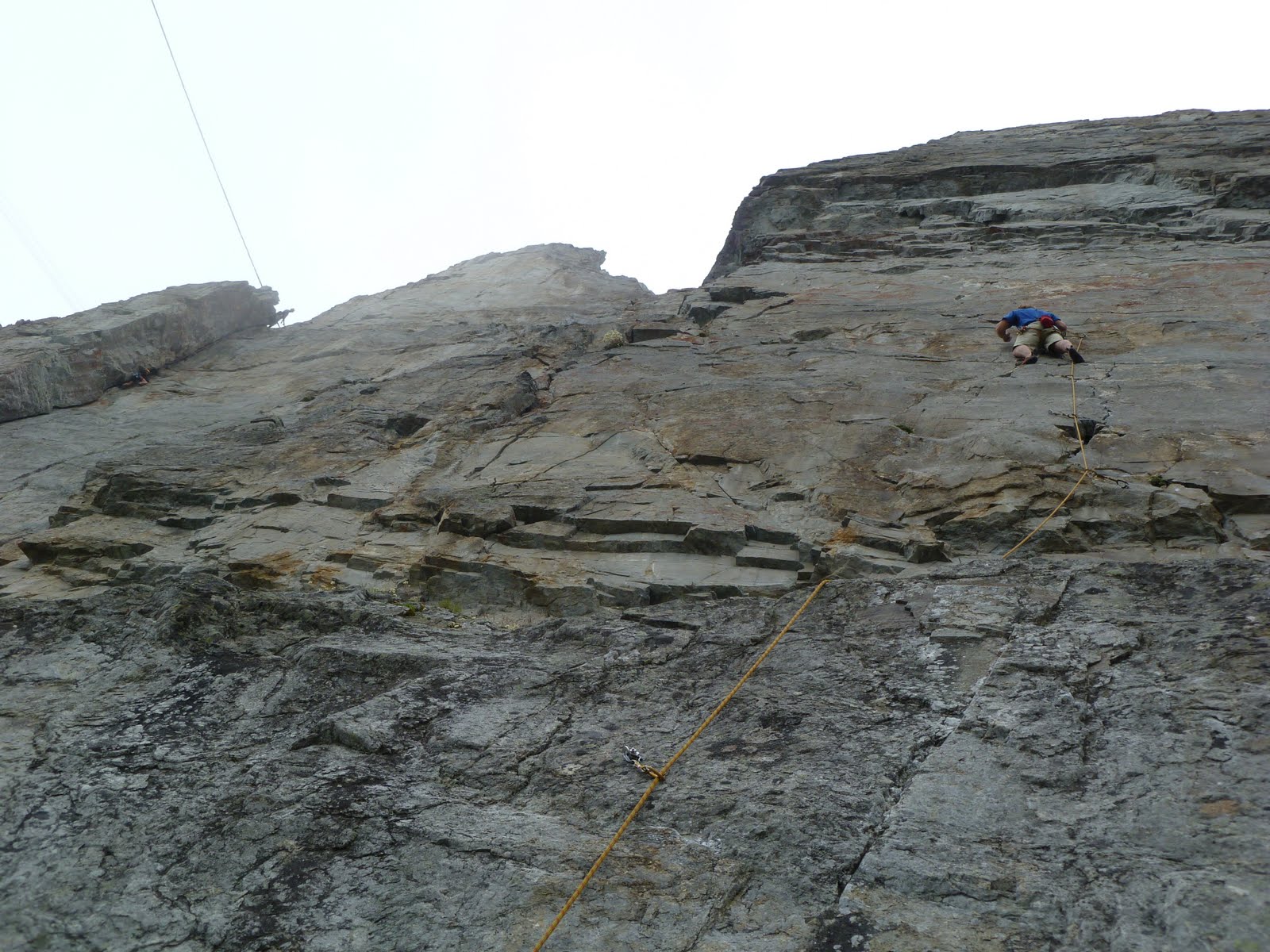 Me on the imaculate first pitch of
"Ou ca m'maene la benne"
On Sunday we headed up to Brevent area to do a route that Ally had had his eye on for a long time. We went for "Oú ca m'améne la benne" which is known for its three sustained and technical pitches of 7a+,7b+,7b+ and is classed as the hardest route in the Aiguilles Rouge area. After we had onsighted the first two pitches, unfortunately the rain started to come down hard just as I was halfway up the third (last) pitch. So we reluctantly decided to bail off the line and agrred to return another day for round two when the weather forecast is a bit better.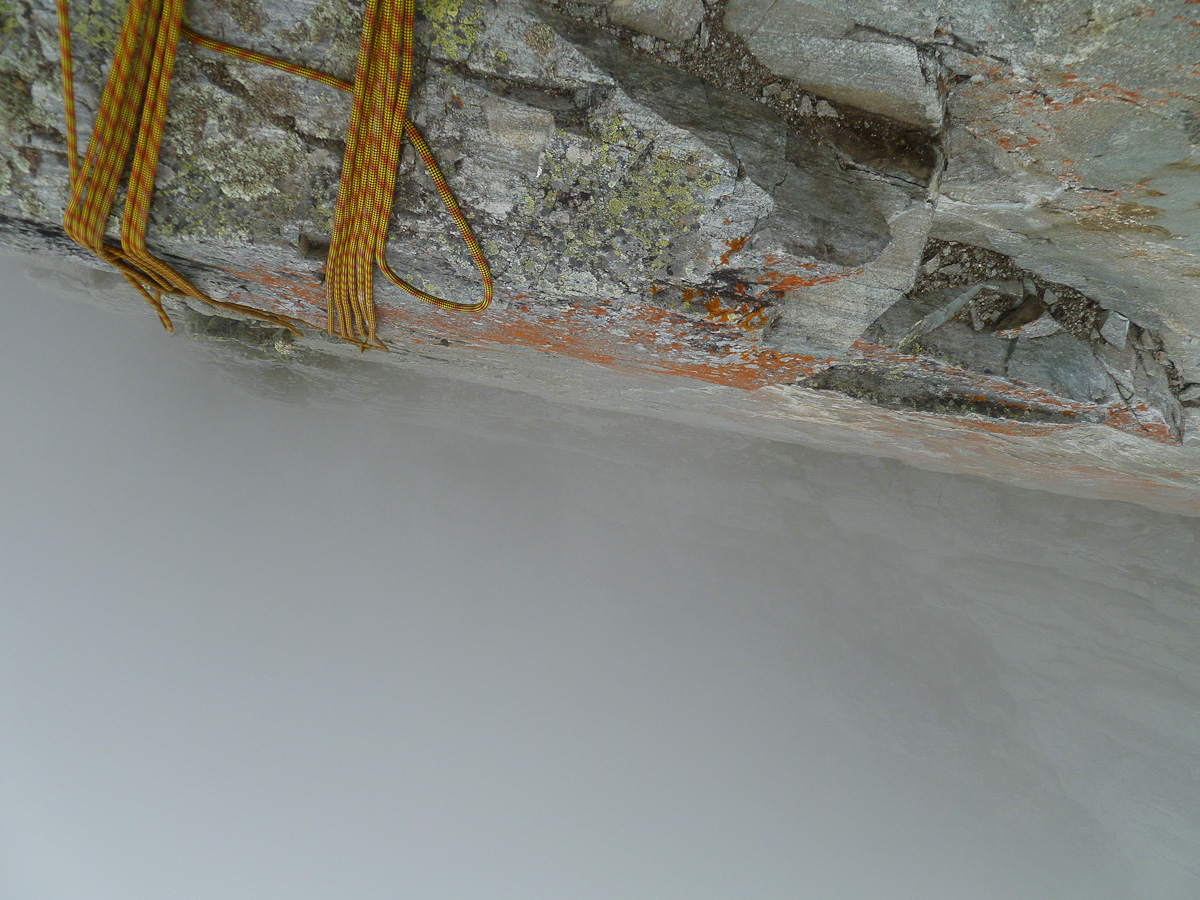 Here comes the weather!
Yesterday Ally and I took his sister (Susan) and her boyfriend (Paul) up into the mountains for a bit of an Alpine route experience. They were keen to get out in the mountains whilst they are visiting Chamonix for a couple of weeks. Ally's dad Gav was originally going to be taking them out climbing but unfortunately he came off his mountain bike earlier this week and cracked a couple or ribs. So he is on the bench for the next few days. Thankfully the strong French muscle relaxants seem to be working and hopefully he will be back out and about soon.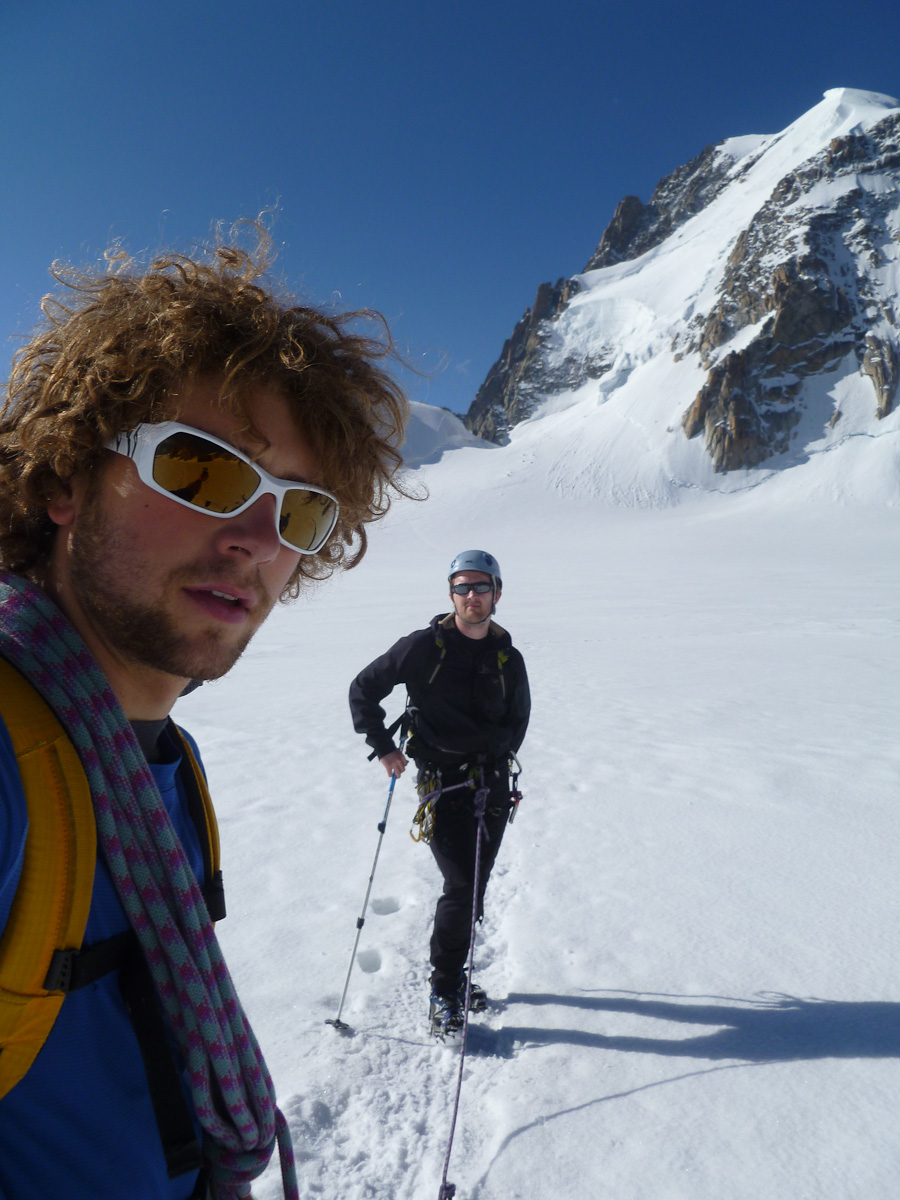 Me and Paul walking over to
Point Lanchenal
So we headed up the midi cable car and ventured out onto the Valley Blanche glacier to do the "Traverse of the Points Lanchenal". This is a good little ridge line that is located below Mont Blanc du Tacul. It is home to some good snow ridges and a few little rock sections that offer some short lived technical steps. After doing these and an abseil down a gully and a short rock chimney, it was back down towards the glacier and up to the Midi arête, just in time to catch the bin down and grab some lunch.
It was a fun day out and I would recommend this little route to anyone wanting a varied and fun first Alpine route without the masses of people that would usually be found on the Cosmiques Arete.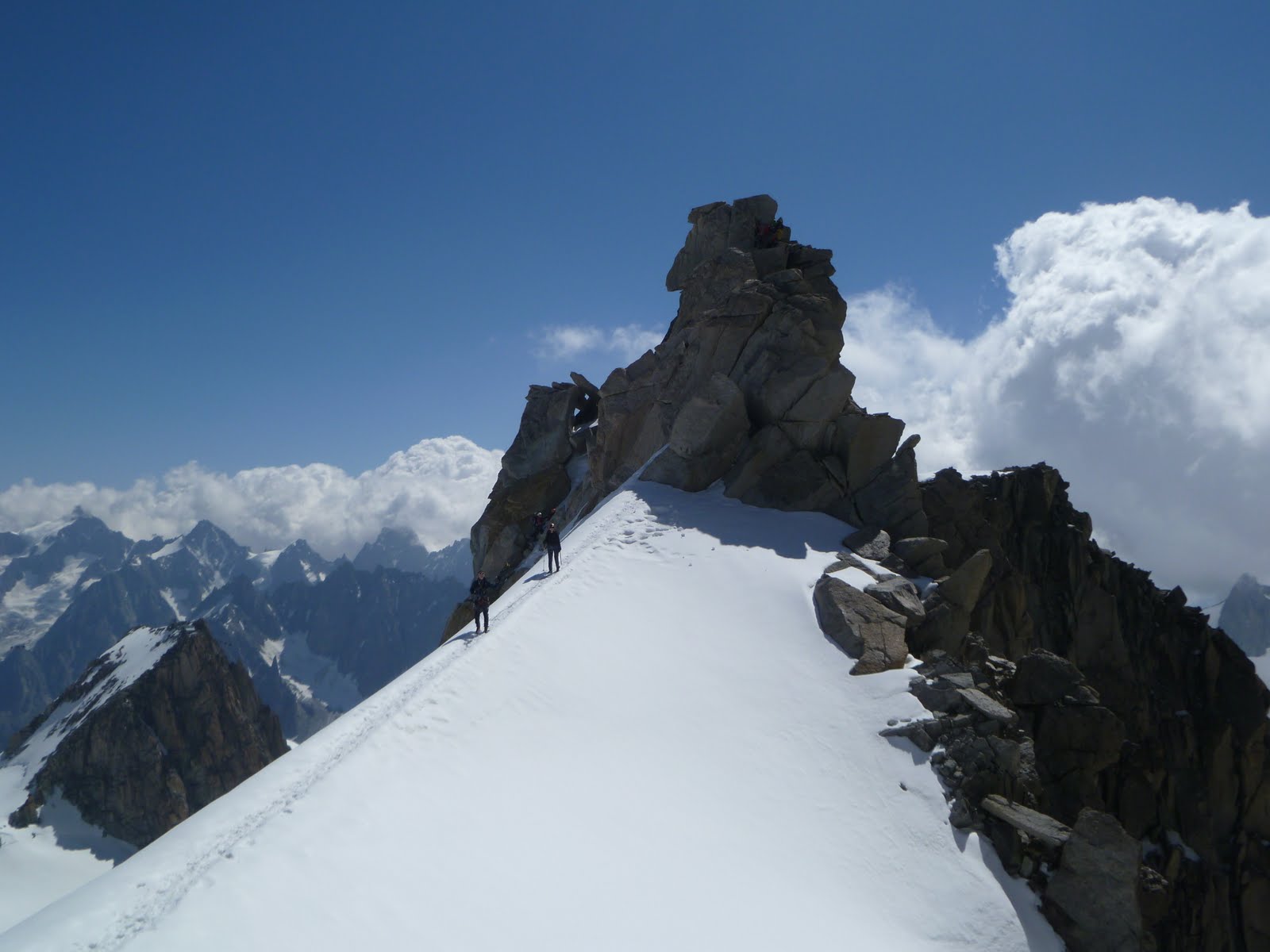 Ally and Sue on the snow ridge of the
"traverse of points lanchenal"
Unfortunately the weather is forecast to crap out again over the next few days, so we will be doing some more smaller one day routes until it stables out. Then we can head up for something high and hard.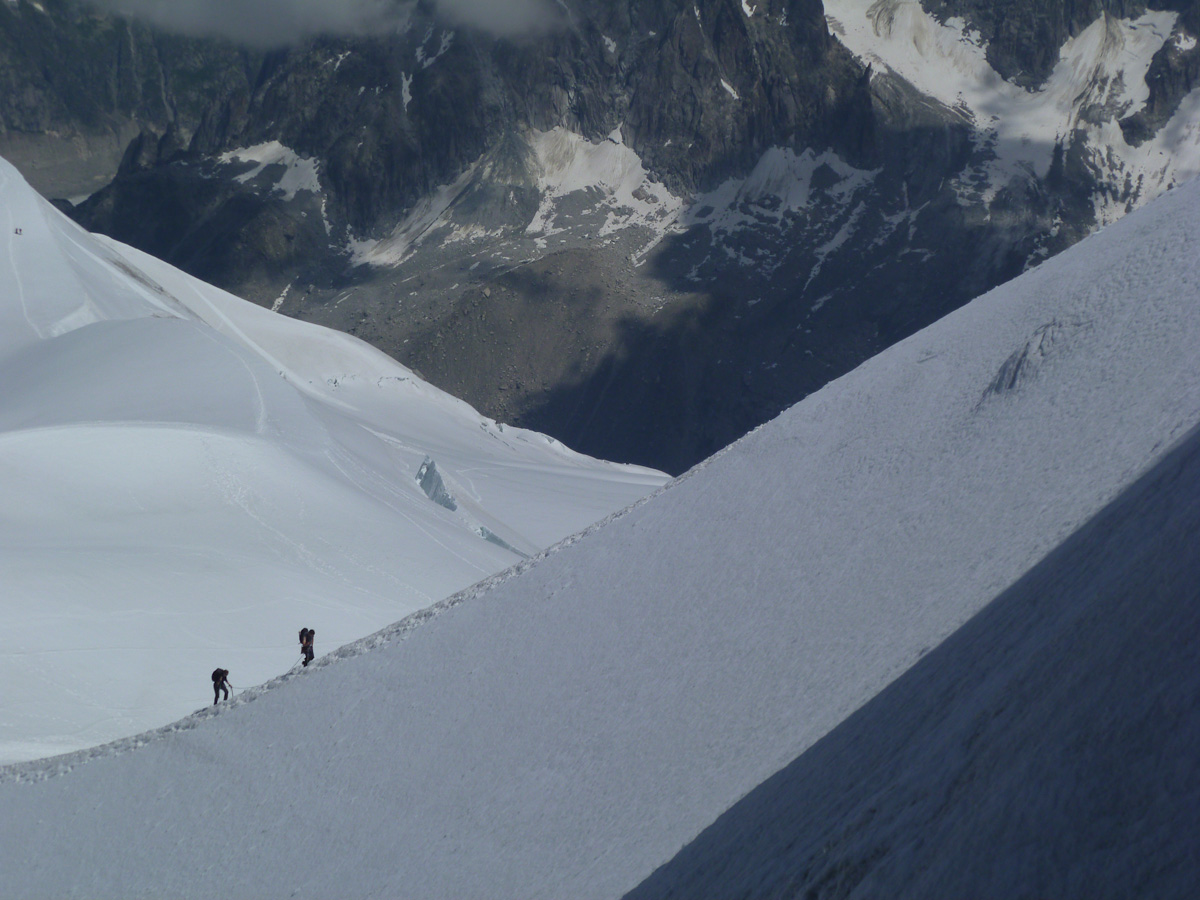 Ally and Sue heading up the Midi Arete