Since the weather was so nice over the past few weeks, last week I managed get two good evenings climbing after work at Dunkeld with Ally Swinton. We did a fair few laps on most of the sport routes at upper cave, in preparation for our up-coming Pabbay/Mingulay trip that is swiftly approaching.
Having had a good weeks sport climbing at Kilnsey the week before, and having got some good trad routes ticked at Cambusbarron last Sunday, I am starting to feel pretty psyched and rock fit for the amazing trad routes that the Islands have to offer.
We're heading off early tomorrow morning and will arrive on Pabbay late afternoon. After setting up camp, there will be lots and lots of crankaggge over the next 10 days! So keep an eye on my blog to see how we all got on.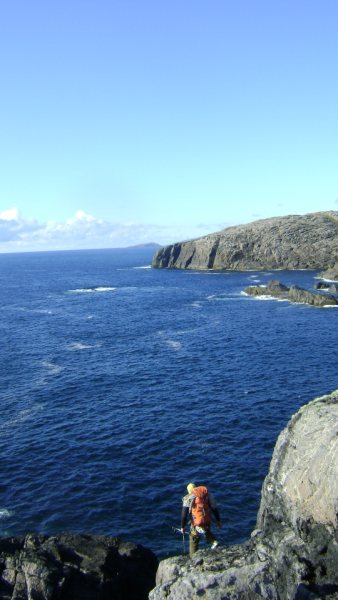 Pabbay last year 2010
Photo credited. Ally Swinton
I would also like to thank
Julbo
for sending me a pair of Dirt (zebra) sun glasses for the summers rock season and look forward to using them soon. Fingers crossed that the sun stays out on our trip.