Over the past three days I have been making the most of the post thaw conditions in the mountains.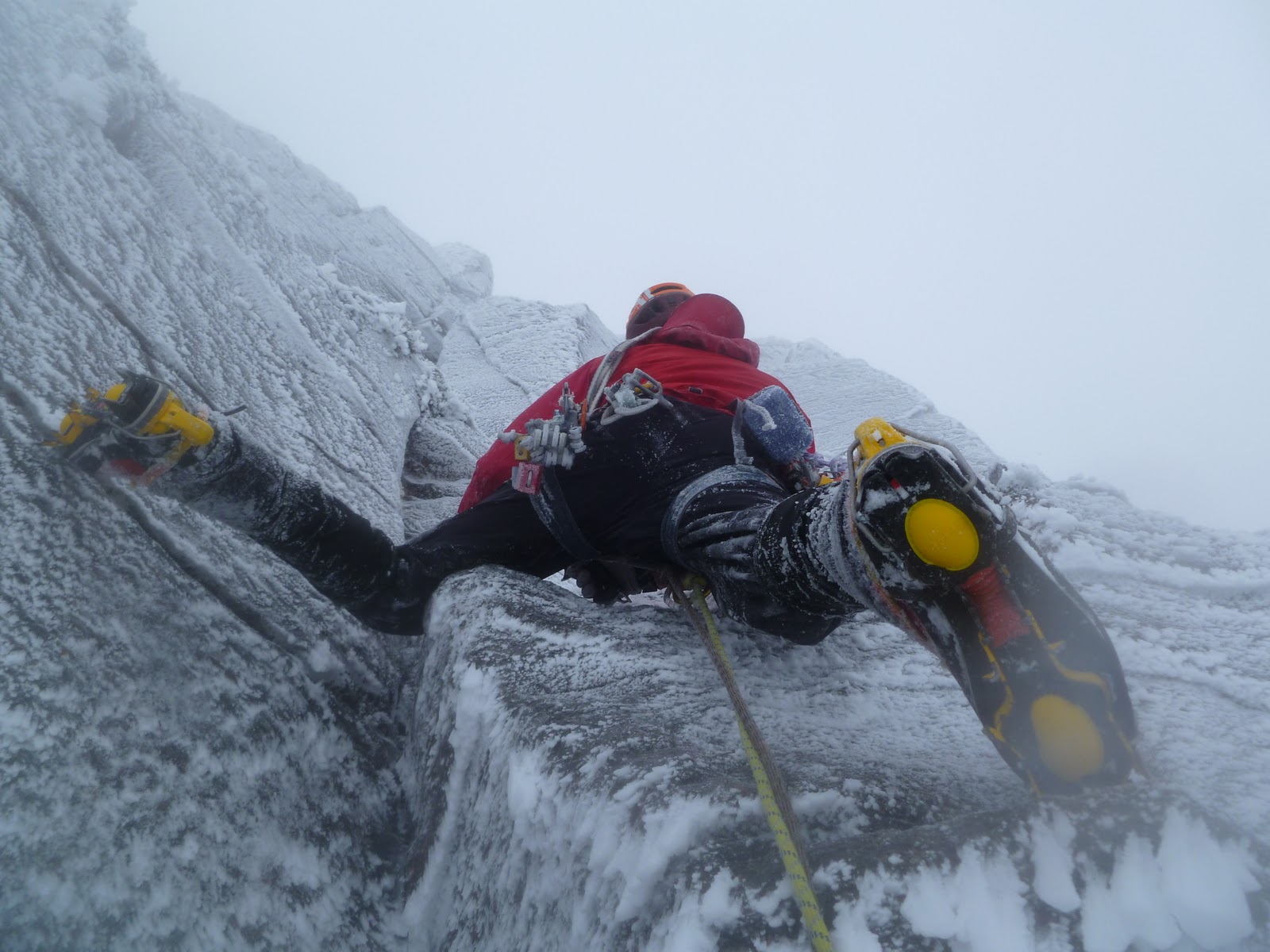 Charly Fritzer on "Ventricle"
On Wednesday I met up with Ines Papert and her friends who are over from Germany and Austria for ten days of Scottish winter mixed madness. We headed up to Coire an Lochain on Wednesday morning, with Pete Macpherson and I being the so called locals, it was thought that we could show the tourists where the good lines are.
Ines and Pete did "Daddy Long legs" on No.1 buttress, while Austrian Charly Fritzer and I did "Ventricle". This was Charly's first ever Scottish winter route, and it seemed to be well within his abilities. It was fun to climb with new people and to see how these European Alpinists found our Scottish winter routes.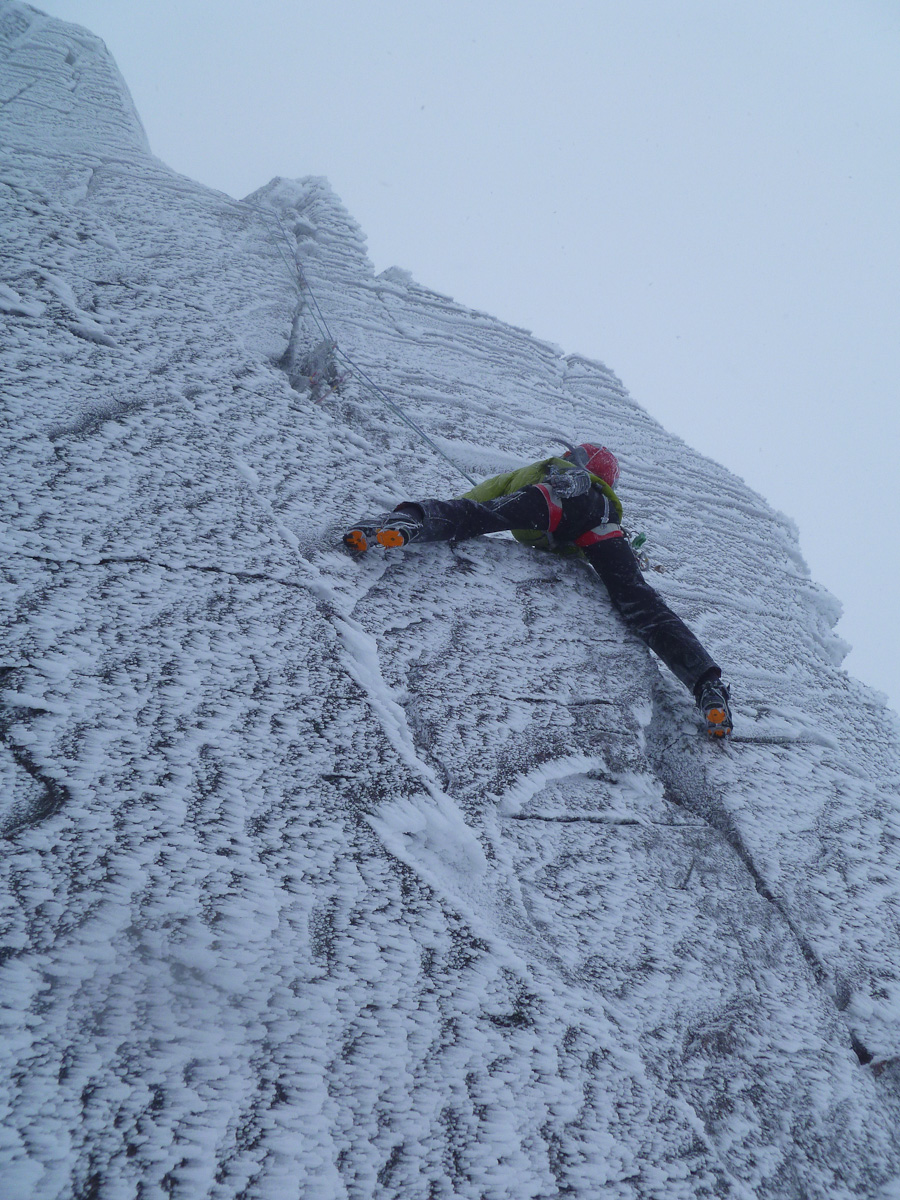 Ines Papert on "Daddy Longlegs"
On Wednesday night Ines and Co and I headed west to Fort William, ready for an early start on the Ben on Thursday. We met up with Mike Tweedley that night and we all slept in the Nevis range car park, Mike and I in my car, and the German crew in one of Simon Yearsley's Big Tree Campervans.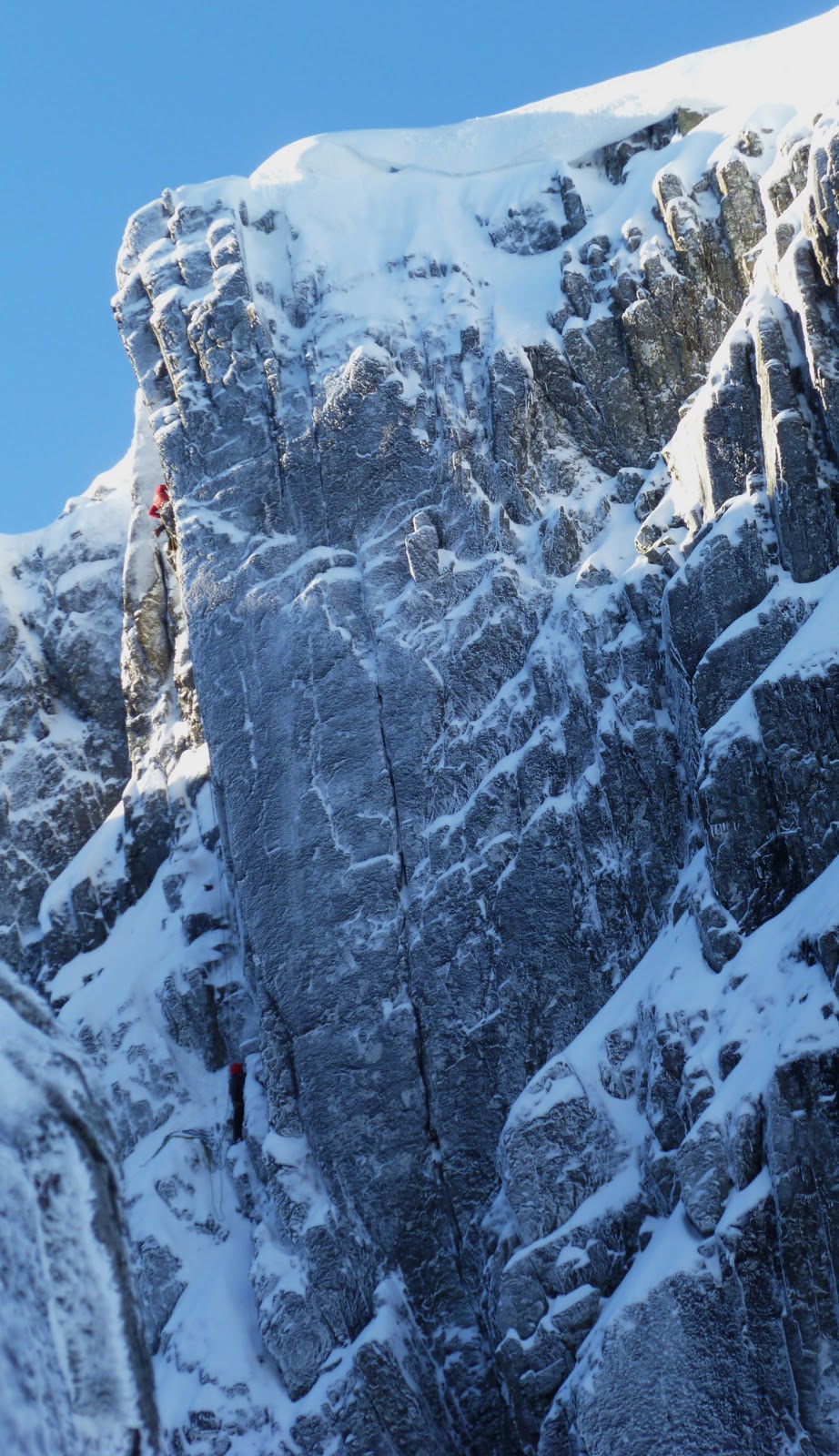 Charly in the sun on
"To Those Who Wait"
On Thursday we all headed up to No.3 Gully Buttress area for some second ascentage action! Ines and Charly went for my route "To Those Who Wait". This was very inspiring as Charlie managed to get it second go (ground up) and it was only his second ever Scottish winter route. Ines had a go first but slipped off at the crux so passed the sharp end over to the Austrian beast!
Mike and I did Steve Ashworth's new route "Apache". This was possibly the second ascent of this route. The route was originally given VIII/9, but this was in blizzard conditions and in my opinion, things always seem harder when the weather is bad. Mike and I both agreed that the route was steady VIII/8, but still an awesome line and it was a good effort for Steve and Paddy on the first ascent.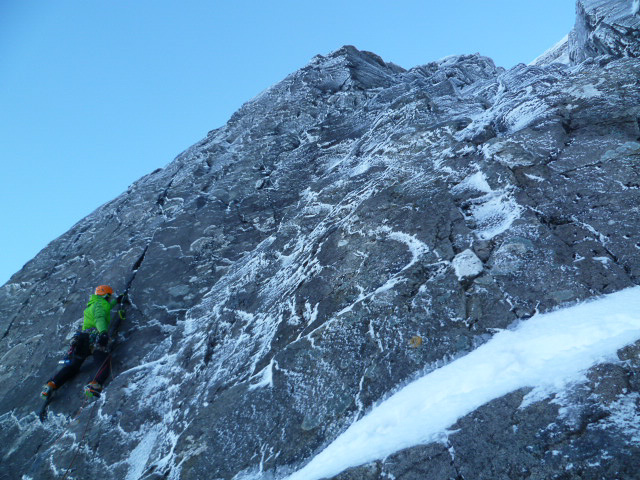 Me leading the crux pitch of "Apache"
We split the pitches a little differently from the first ascentionists. I took a belay on the good ledge up and right from the belay of Sioux Wall. This was after all the difficult climbing and meant that the second pitch was a bit more interesting for Mike, rather than one hard move then easy ground. I think this is the best way to split this route.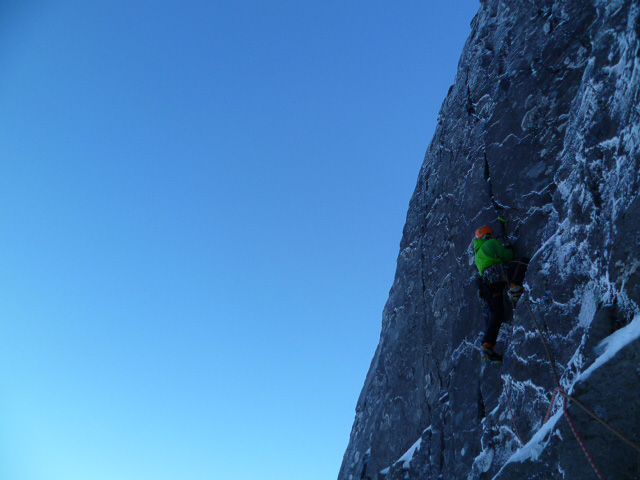 "Apache" crux pitch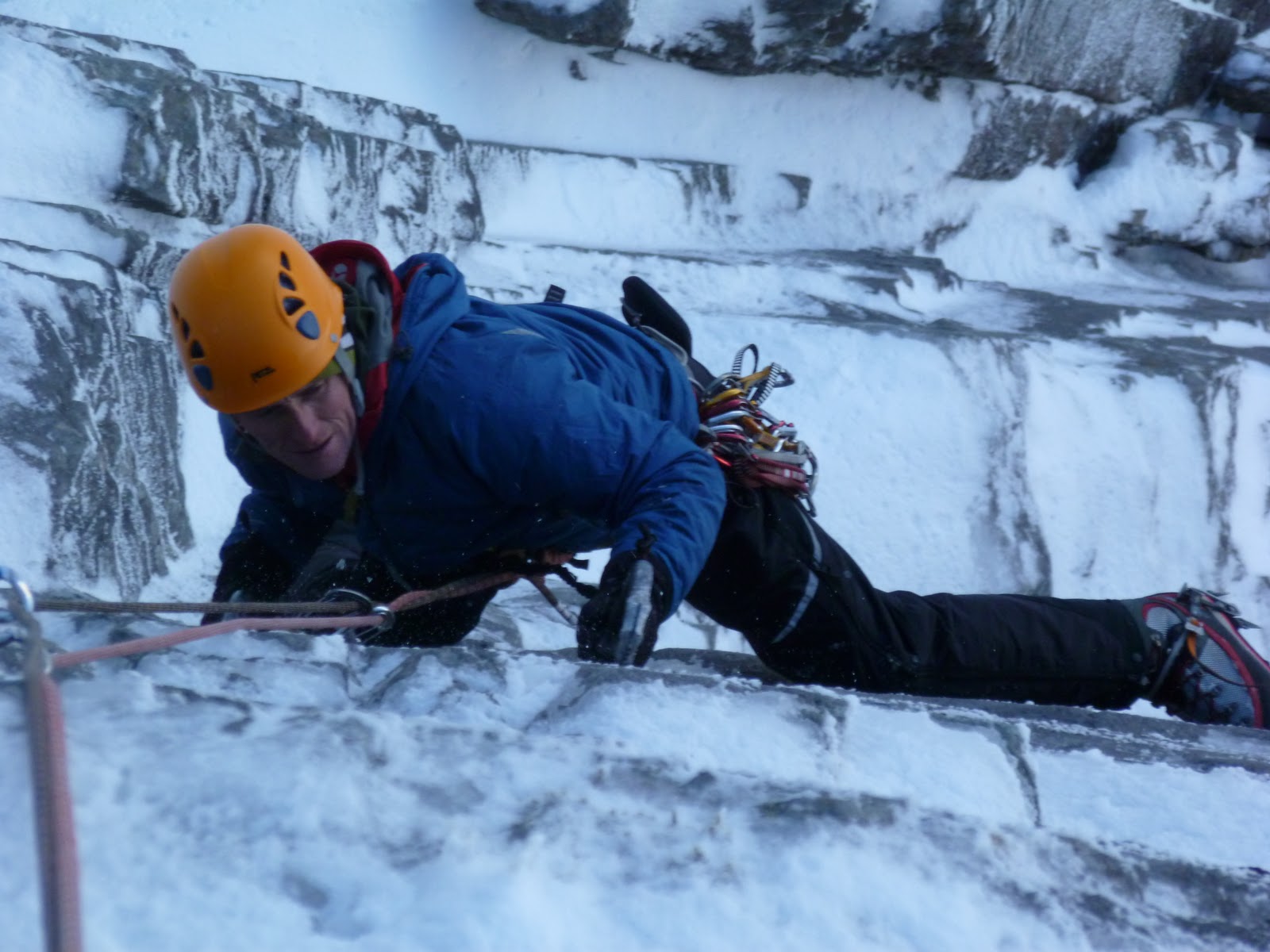 Mike seconding the crux pitch of "Apache"
On Thursday night Mike and I stayed at Dave and Clair Mcleods, while Ines and Co headed off to find a hostel so that Hans (their photographer) could dry all his camera equipment.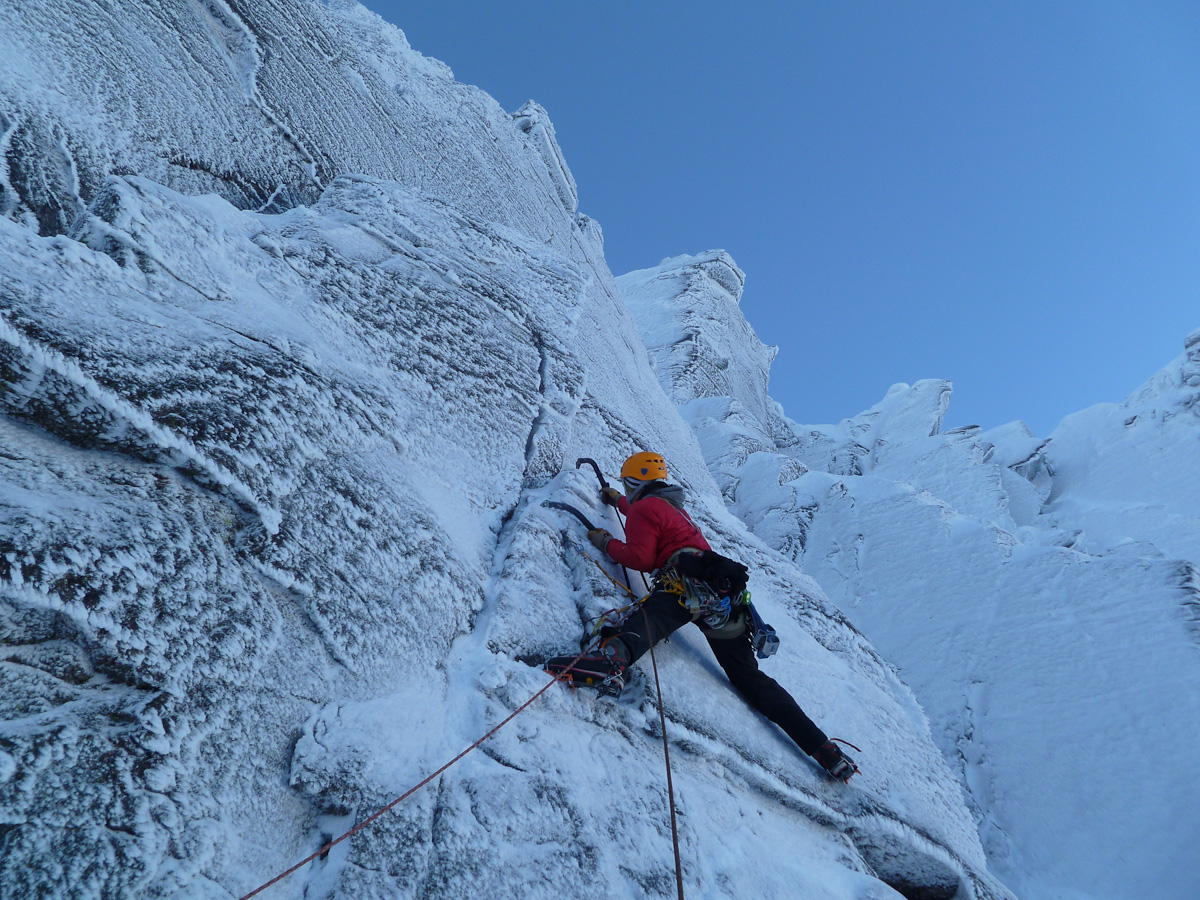 Mike on the first pitch of "Omerta"
Mike and I headed back to the Gorms yesterday to repeat Pete Macpherson and Martin Moran's route "Omerta". This turned out to be an awesome line and It certainly kept up with the Northern Corries reputation for short hard routes. Mike led pitches one and three and I led the crux second pitch. The route was super sustained and the crux and last pitch where hard to protect due to dirt and Ice in the cracks. I managed to climb the route clean with no falls or rests, but this was more to the fact that I didn't trust any of the protection on the crux pitch. So falling was not an option, even though I was very pumped and tired by 3/4's of the way up the pitch.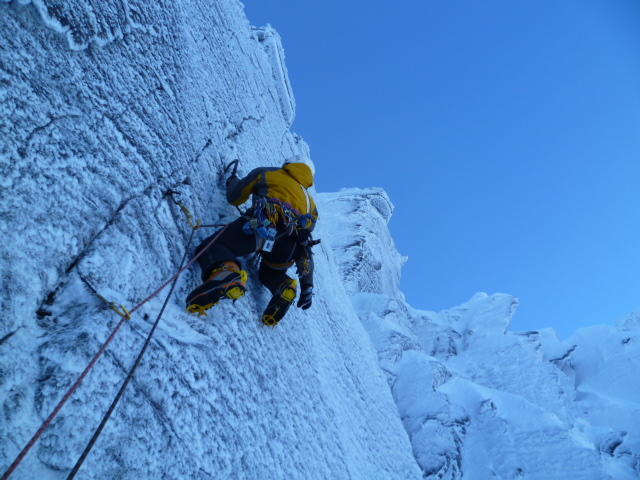 Me starting up the Crux pitch of "Omerta"