Yesterday Tony and I headed up for some winter action on the freshly rhimed up buttresses of the North Face of Ben Nevis. We both had our own projects in mind and we agreed that a quick game of Rock, Paper, Scissors at the hut would decide on which of our two routes we would do.
We did this and the lucky Mr Stone won the game, so off we trotted up the hill towards the buttresses. When we were half way up, the wind and spindrift was starting to get very strong and it soon became apparent that the forecast weather of little winds and a high percentage of clear sky's was not going to arrive and that it wasn't a day for trying hard project routes in the mountains.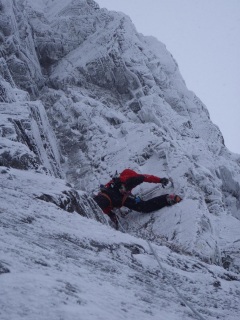 Tony just before retreating from a Verglass nightmare
We agreed on another route,but as Tony started up this, I noticed that he was 20m up without a good/any piece of protection. He soon shouted down that the verglass was making it impossible to protect this hard route and that he wasn't comfortable to press on without any good gear. I agreed and Tony then down climbed back to the base of the route.
We then decided to go and try a route that I had wanted to do for a while and Tony had done previously called "Cornucopia". As it was getting late by this point we agreed that I would do the whole route in one big pitch and then rap off and strip the route, hopefully before it got too dark!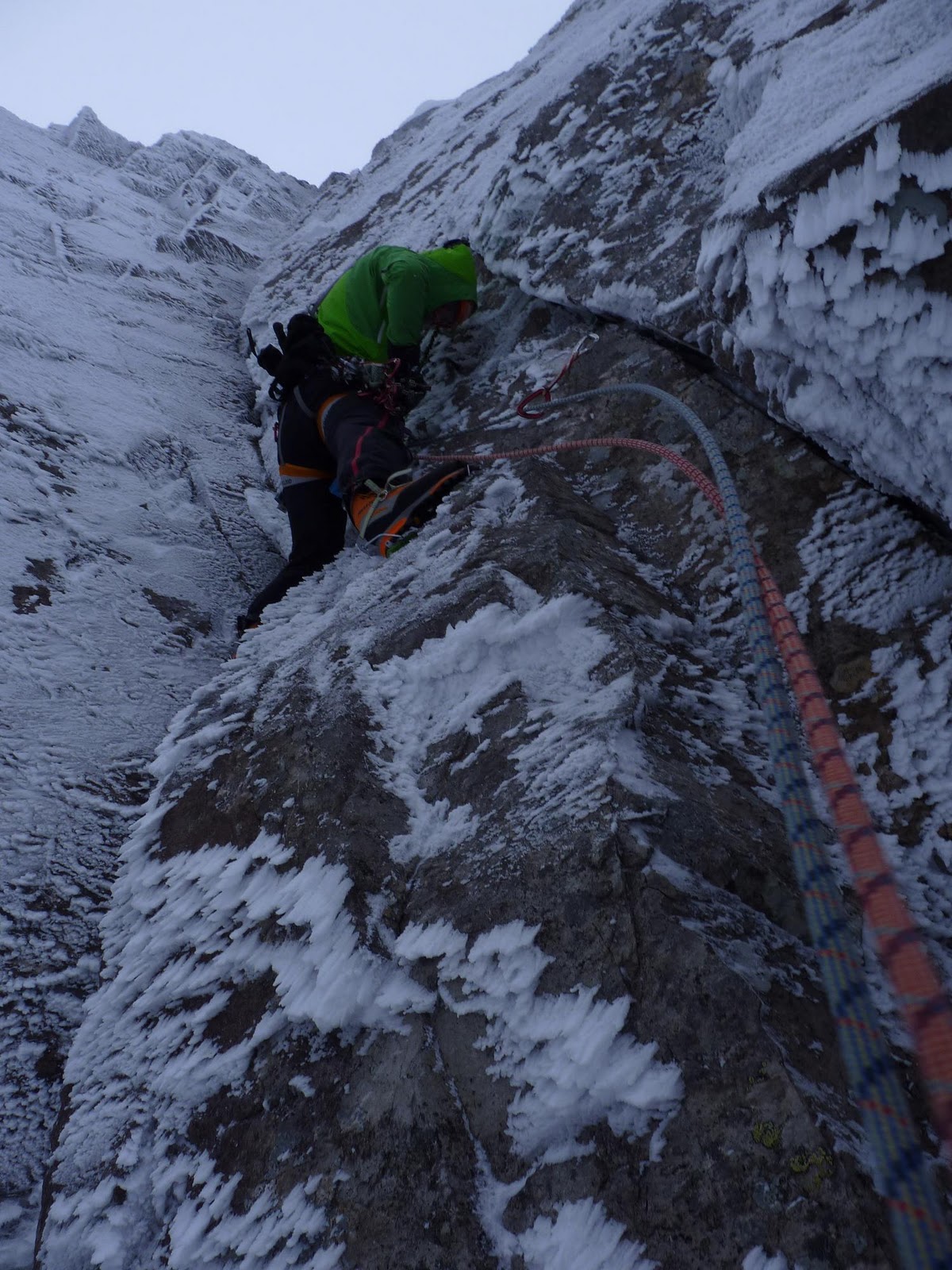 A quick photo of me on Cornucopia before another spindrift cloud hit!
(the ropes show the wind)
I stared up the route, and after fighting my foot free due to getting it well and truly stuck (mid crux), getting my eyes frozen shut numerous times, not being able to look at my feet without getting blinded because the epic spindrift and running out of good gear placements from the amount of bullet proof verglass on the route (more like trying to survive than actually climbing). I finely pulled onto the top and the proceeded to quickly rap back down and strip the route to a very festive/frosty looking Tony.
We pulled the ropes and retreated through the gale force winds and blizzards back down to the hut as quick as the deep snow would let us, while trying to avoid the unstable avalanche prone slopes on the way.
On the walk back to the car and once we were out of the wind, it turned out to be a lovely decent due to the almost full moon beaming down on us and lighting up the path and forest trail, meaning we didn't need to use our head torches on the entire decent.
It was then back home for the Christmas party on Sunday and back out climbing again on Monday!
Bring it on!!