Winter has finely arrived, and maybe a little too much.
Today Guy and I headed into a very snowy Coire an Lochain. As we got close to the buttresses we could see that they where in good nic although there where a lot of icicles hanging from the steeper cracks. We decided to try a route called Nocando Crack, which is an awesome looking line that follows a huge hanging flake between The Migrant Direct and The Vicar. This route had been on both our tick lists for the past few years.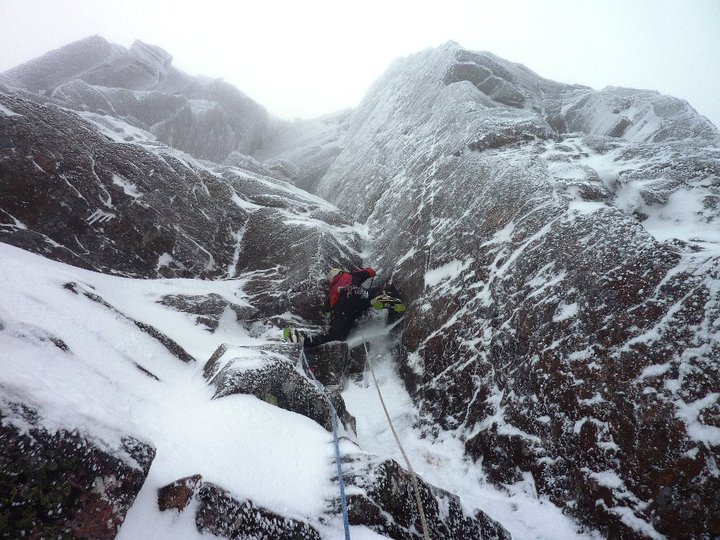 I started up the first pitch (picture above), but it soon became apparent that there was a lot of useless ice around and the Verglass was making progress and protecting the route very difficult. I persevered and once I had done some thin moves to reach the belay (that where made even spicier due to the lack of protection from iced up cracks), I brought Guy up to the stance and we discussed our options for the rest of the route.
As this route is such an amazing looking line, we where both very psyched not to mess up our clean ascent. So we decided to bail off Nocando due to the fact that the cracks on the next two pitches where totally glazed over with a bullet proof layer of Verglass ice which would make protecting the two harder pitches nigh-on impossible.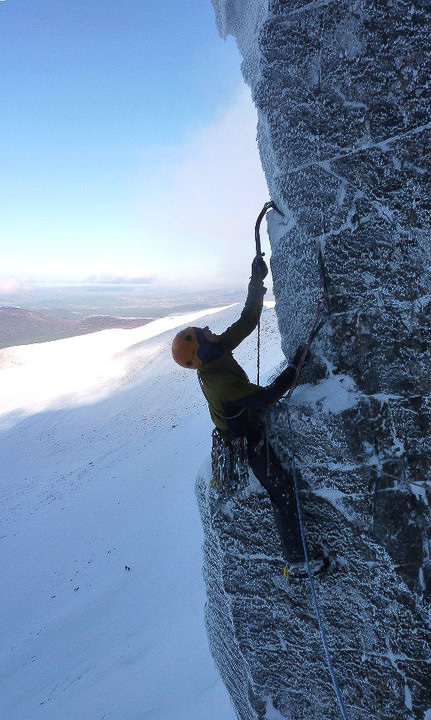 We decided to traverse onto the easier line of "The Migrant" which I had done a few seasons ago. Guy ran the last two pitches together to give a good long pitch and even though I had climbed this before it was a very enjoyable way to finish off the days climbing. All in all the whole route went at around VII/7 (due to conditions) and it was a good way to blow away the cobwebs and get the psyche pumping for the up and coming winter season.
Climbers on Fallout Corner: