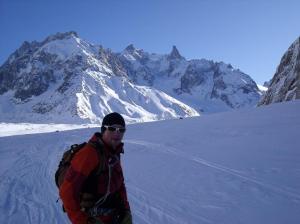 Today Damo and I headed back to Flumet but to a different area this time. We went to "Nant de la coufia" area to look at what routes it had to offer. It had been snowing since we got up this morning and it was still dumping when we walked up the gorge to the routes. We walked up and looked at all the routes but most of them were buried by all the fresh snow, so we decided to go for a route called "Cascade Face N" (original name to say the least, guess which way it faces ;-P). The route is an 80m WI 6.
Once we had decided that we would do this route, we made our way up to the base of the climb which involved wading through very deep fresh snow and some deep avalanche debris (it felt like swimming through treacle, except without the tasty sugary after taste!). When we arrived at the bottom of the route we decided which line we would take and then played the compulsory game of Rock, Paper, Scissors to decide who got the first pitch. I won so I was up first.
I quickly climbed up to an ice bulge below the steep second pitch and took a belay. I chose this place for my belay as I thought It would be free from ice fall when Damo started up the last pitch but also because it would be a great photo spot. I soon found out that I was wrong and as Damo started climbing above me I started getting pummelled by ice, so we decided that I would moved up to a cave below the first steep step. This spot was much better as I was sheltered from the heavy snow that continued to fall and the ice that was getting knocked down. I also got a good view of the climb, which is always a bonus.
Damo made a quick ascent of the top steep pitch which was home to some awesome climbing and nice ice. Once I had ventured out of my cave and seconded the pitch we rappelled back to our bags, which had been buried by the snow. We dug them out and headed back to the car. Even though the weather was pretty minging, we were happy to have got some climbing done.